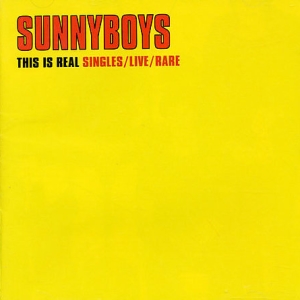 – Singles/Live/Rare –
Unless you come from down-under yourself, it is most likely that the only thing that the name of Sunnyboys might bring to mind is a bunch of unknown tan-faces, providing their own share of surfy twang …..
And it doesn't happen to be too far away from the truth, which is actually "two surfing brothers-turned-rockers, providing their own share of '60s influenced power-pop" during the early '80s, perfectly in accordance with the times.
The band's songwriter and front man, Jeremy Oxley, might as well be a serious contender for the post-'60s Barrett/Wilson-syndrome title. It's his schizophrenic persona that brought the band's (at least nationally) pretty successful top-40 career to an early end.
Thanks to the enthusiasm of archivist/fan Tim Pittman, here's another chance to (re)discover the sun-drenched power-pop legacy of Sunnyboys. Besides a couple of slightly darker sounding releases from their latter days, wrapped up in that post-new-wave-ish mid'80s production haze, if you look at them as a singles band, there was practically no mistake.
What they dealt with, was either mid'60s US garage beat-influenced (Love To Rule) or Brit-mod fuelled pop sound (To The Bone, What You Need, You Need A Friend), and with an additional contemporary punch.
The above influences often come out sounding not unlike the San Diego/New York mod revival of bands such as Manual Scan, Mod Fun or Secret Service (Tomorrow Will Be Fine, Guts Of Iron), or The Jam at their Motown-angriest (Stop & Think), as well as some updated folk-rocking jangle (Alone With You, My Only Friend and Physical Jerk with it's unexpectedly happy-go-lucky feel).
As a bonus, you also get an extra CD worth of live radio recordings, showing us why the Sunnyboys used to leave "a writhing mass of sweat soaked, deliriously happy bodies … night after night, venue after venue", all accompanied with a 36-page (!!!), detail laden booklet.
[Released by Feel Presents 2004]