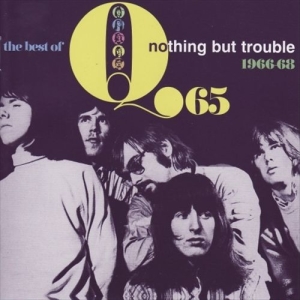 If The Outsiders have most usually been referred to as the Dutch Pretty Things, as far as I'm concerned, in case of Q65 the closest pair of references are most definitely The (British) Birds and The Downliners Sect.
In spite of a pretty obvious (pun intended!) nod or two towards the Pretties themselves (Cry In The Night), those in the know will surely know what I mean, as soon as they hear freaked takes on the British r'n'b boom such as You're The Victor, And Your Kind, The Life I Live, I Got Nightmares, From Above or any of the "bloes" classics covered during band's early daze.
In accordance with the pretty usual (pun not intended!) evolution of the surrounding scene(s), by the time of the debut longplayer Revolution (late'67) and the following singles, Eastern and chemically induced influences started creeping out, as heard in Just Who's In Sight, Summer Thoughts In A Field Of Weed, World Of Birds, Where Is The Key or So High I've Been, So Down I Must Fall, as well as on the '68 Circus single, stuck in-between the two phases of Q65 (also included).
The story goes on into the early '70s, but it's the first three years, covered herewith, that secured the band's place among the favourites of the children of Nuggets.
[Released by Rev-Ola 2008]