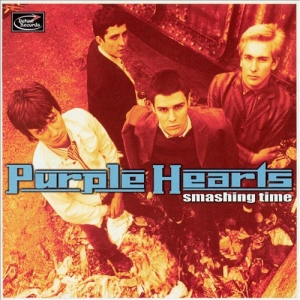 After the recent re-release of the band's Mod revival classic Beat That (on Captain Mod), here comes a slight "detour", introducing some unheard/demo/live recordings from '78-'82.
Almost half of both Beat It and Pop-Ish Frenzy albums are present, featuring versions often more representative of the 'Hearts "smashing frenzy".
The most appropriately titled title-track, which is an obvious attempt to produce a mod-anthem (it works!), as well as a coupla more, like Gun Of Life or Plane Crash (the latter featuring Paul Weller as producer/backing vocalist) are all full-blown, Jam-packed mod-shouters, full of guitar-driven pop-artistry.
What A Shame doesn't get much farther, being a melodic reminiscent of the early Who/Eyes, the chorus of When I See You turns The Beatles' "rainy" psych into a sweet beat-pop number and they go "slightly-delic" themselves, with the new-wave-ish Concrete Mixer, inspired by Ray Bradbury's same-titled short story (another Weller involvement) and also with the Britsikey power-pop sound of Hazy Darkness.
The stripped-down, acoustic arrangement of some of the demos sound just like they were actually meant this way, like the Kinky life-observation Just Like Real Life or I'll Make You Mine, which is like an early-Who demo (even though it was initially meant to be kind of a Beatles-tribute, written after the Lennon-murder).
Even some of the songs labeled as "throw-aways" (like Another Day), sound so that I would be the first to "catch" them.
Not that I'm trying to promote pill-taking, but these are the ones that you should swallow without hesitating ….. "smashing time" is guaranteed for all!
[Released by Detour 2003]