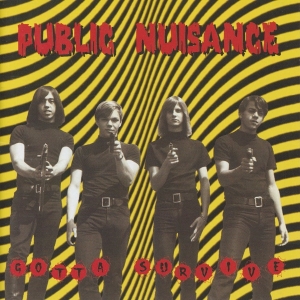 Whoever coined the "freakbeat" sub-genre, trying to describe one of the many aspects of the '60s sounds, I'm sure it was after hearing some of the British bands.
Now that the legacy of Sacramento's Public Nuisance is finally unearthed, the origin of this idea is about to be slightly redefined, because these guys are the pure essence, either if you listen to them or just look at them.
As strange as it sounds, comprising their studio sessions from September 1968 to January 1969, this fabulous release has two full-length albums worth of killer tunes, and still, at the time there was no regular release!?!? … Now that's unfair !!!
As a special bonus, you also get two versions of each side of their only single, released in 1966 as Moss & The Rocks, both being great moody folk-janglers, with a Mersey splash or two. When they rock hard, which they do quite often, there's kind of a raw Motor City power about the songs, but with MUCH more harmonies than usual, like in America or the Nazz-sounding pair Darlin' and Small Faces, which also may share some of the late sixties nature of the song's namesakes, and there's also the Cream-y, super-melodic Time Can't Wait.
After the Moss' single, there were still traces of the folk-rocking sound to be found in songs like Magical Music Box, sounding like a garage take on some of the Turtles' early Dylan covers, with Moon'n'Ox rhythm section, just like Man From The Backwoods, which also adds a bit of the Who-ish dynamics to the jangle, or Strawberry Man, a folky protest song with an unexpectedly furious finale.
Another digression from the mostly "frantic" outcome, comes through a couple of soft sounding songs like Sabor Thing, with a Boettcher-like quality about it, Thoughts, recalling Neil Young's Buffalo-days, the acoustic 7 Or 10, which is like a Paul Simon/John Lennon collaboration for The White Album.
Some more Beatles references can be heard in the Eastern-influenced middle eight of another clean sounding popsike gem called I Am Going, as well as in Hold On. If you're looking for some strange sounds, check out Holy Man, which could easily pass for an action-packed sci-fi soundtrack.
Daddy's Coming Home is a funky-garage thing, kinda predating Beck's moderndaze fusions, and if you have ever wondered how would Jimi Hendrix Experience sound like if fronted by Mick Jagger, I think Love Is The Feeling is as close as it can get.
Another thing about Public Nuisance is that, if it wasn't for the involvement of one of THE '60s archivists, Alec Palao, I am sure I'd have some suspicions about most of these songs really being recorded back when they were.
So, one of the BIG mistakes of the decade is now being corrected, no matter how "frantic" it may sound!
[Released by Frantic 2002]