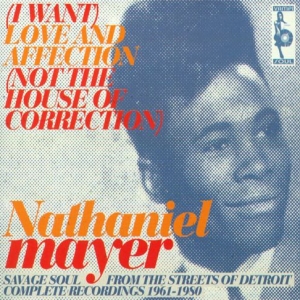 – Complete Recordings 1961-1980 –
"Crazy, funny, irreverent and stunningly talented dynamo" of a teenager, hungry for fame and "fortune" almost fifty years ago, and none the less enthusiastic now halfway into his seventh decade of life, as already proven with his stunning come back album (reviewed elsewhere on these pages) a couple of years ago (with the new one in the making as I write this).
With a chunky 24-page booklet detailing the story of Detroit's "other" soul label, as much as the one of Nay Dog himself, this is "the first, only, complete and definitive anthology" of Nay Dog's music, displaying the way from his raw take on doo wop and late'50s soul by way of Sam Cooke and early Drifters, with Fortune's biggest hit Village Of Love and it's "desperate wail and shriek of an eastside kid" being the finest example.
Towards an even rawer and quite obviously MUCH funkier grooves of Leave Me Alone, Don't Come Back, From Now On, Where Will You Be or I Had A Dream, with the latter also sharing some of the upbeat dance floor vibes provided by east L. A.'s Chicanos, and finally one of soul punk's defining moments, if there ever was one, (I Want) Love And Affection (Not The House Of Correction).
As put by Ike Turner, "Mayer is taking back his name … with a vengeance"!
[Released by VampiSoul 2007]