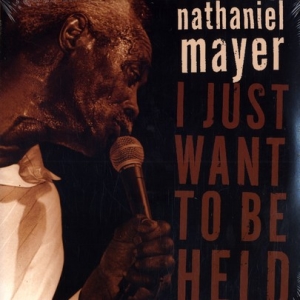 Being regarded as an underground soul legend, along with fellow Motor City growler Andre Williams, NayDog is back with his first recordings in almost 40 years, displaying a shape that justifies his nickname better than ever.
This actually being a vinyl re-release of the initial CD version on Fat Possum in 2004, the album now gets the format it really deserves to be heard on, and to put things onto a more contemporary level, he's being backed by a bunch of moderndaze garage punkers such as The Oblivian Jack Yarber, also contributing one of the album highlights, the moody, almost Zombies-gone-punk-like Satisfied Fool.
Two other covers included are Lennon's I Found Out, which to my ears (being a lifelong Beatles-and-related fan, I'm not sure if I'm supposed to say this) in it's own raw beauty, surpasses the original itself, and the other one is Nate's '60s label Fortune's co-owner Devora Brown-written From Now On, which along with a couple of originals (I Wanna Dance With You, Leave Me Alone, You Gotta Work) captures the essence of dance floor ass-shakin' punk attitude, by way of a much wilder and dirtier Sam the Sham.
Another one of the highlights is the closing What's Your Name, getting kinda funked-up, in an equally punk-ish way, while on a more laid back side, there's a pair of I'm In Love and Stick It Or Lick It, borrowing some of the neighboring Motown label vibe, though still in a much rawer sense of things, while You Are The One is a genuine soul ballad, worthy of both Sam Cooke or Otis Redding.
It's really not that much that the man is asking for, so let's just hold him tight and wipe away the dancefloor!
[Released by Munster 2006]