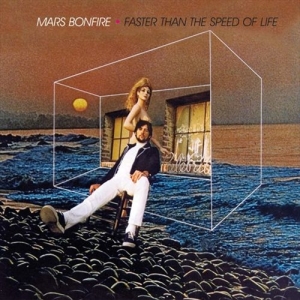 There are several reasons why the name of Mars Bonfire should be regarded as quite an important entry in every rock'n'roll related encyclopedia, and while being as good as any itself, none of these reasons happen to be his own LP, originally released on the Uni label in 1968, soon to be re-issued on Columbia.
Before actually starting the "bonfire" of his career, along with, among others, Bruce Palmer (soon to join another fellow Canadian in forming Buffalo Springfield), Mars joined Jack London & The Sparrows as Dennis Edmonton. With German émigré, John Kay, replacing their front man, and shortening the name into The Sparrow, the band relocated to New York, releasing a couple of singles, with Mars' own Tomorrow's Ship / Isn't It Strange these days being considered for a minor psychedelic classic.
After yet another move, onto an even hipper coast, the disillusioned Dennis Edmonton, finally becomes Mars Bonfire, while leaving some of his own songs behind, most notably Born To Be Wild, helping his former bandmates reach the long desired heights "faster than the speed of life", and under a different moniker of another, more appropriate beast ….. without himself present, ironically enough.
Being too tempting to avoid, I suppose Mars just couldn't help but "cover" his defining number himself, somewhat lacking a ball or two in delivery, compared to the "original", and it's a pretty similar kind of a groove that he explores in a more sophisticated way for the album's title track.
In spite of it not being suggested so, most of the album falls into a lighter, occasionally slightlydelic sound, as heard in Sad Eyes, Lady Moon Walker, She, So Alive With Love or How Much Older Will We Grow?, with the latter being a great Beatle-ish Britsike ballad.
Sometimes he even gets down the folky country round (Tenderness), and on a couple of bluesier tracks, the fragility of the vocal delivery seems to place him somewhere halfway between the Al Wilson-fronted Canned Heat and the Mickey Dolenz-fronted Monkees (Ride With Me Baby, Night Time's For You).
No less than three more tracks from Faster … were covered by Steppenwolf in 1971, making the legacy of their former bandmate an inexhaustible source, which he hasn't seemed to be able to take advantage of himself.
[Released by Fall Out 2007]