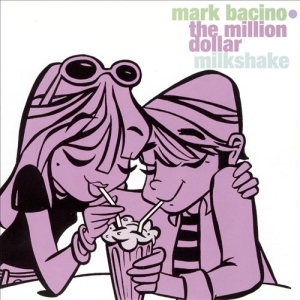 While doin' his regular "pop job", Mark Bacino's sources of inspiration are still in classic '60s pop, as much as in the works of the Brill-building teams.
What I especially appreciate about him, is that he also stays within the concept even when it comes to the length of his albums. Like his debut album Pop Job, these 12 songs also clock in a bit less than half-an-hour, so there's no way you can get bored.
Anyway, with such sweet sounding melodies, it just can't be too long cuz it can melt away. Besides a coupla tunes that occasionally get a bit more muscular than usual like in Downtown Girl with it's 'Pistols-like intro (?!) and Rockin' Mood with unexpected Spectorian castanets after some mean rockin' chords "starting up", it's all standard pure pop style, spiced with some tiny little details that will instantly hook you up.
You'll hear some Bacharachian moods in the opening Want You Around, How About Always, which is kinda like the earlier Wondermints doing a Madness tune, and there's the Milkshake Bossanova instrumental, a perfect Austin Powers soundtrack.
All I Want covers all the aspects used by John Sebastian with the 'Spoonful, from his most delicate pop moments, through some country-slides, to the jugband style, This Little Girl is a Beatley mid'60s pop, with a lovely 12-stringed "quiet" solo, Sunny Day could be the best Style Council track that Weller never wrote, and in the Carmen-ized love story, Walking On Air, you can almost taste the "raspberries" flavour.
As for some contemporary references, this should please the fans of Mark's Australian and British pop-counterparts, Michael Carpenter and Bob Kelly (of Kelly's Heels).
[Released by Parasol 2003]