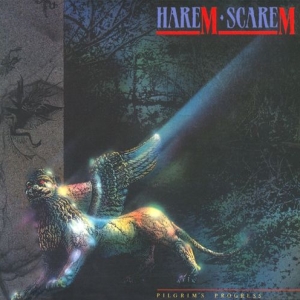 In spite of being described as a proto alternative blues band, predating the likes of Jon Spencer or The Black Keys, an even more precise definition of Harem Scarem, as put in the liners, is that they were "too alternative for the mainstream, and too mainstream for the alternative".
Their sole '86 album, expanded with pre-LP and live bonuses, does show off mostly (r'n') blues based influences, but they still manage not to sound too derivative. An image that seems to pop up in my own mind quite often throughout the album is a fat, white-suited Elvis, being backed by different kinds of familiar backing bands.
The Faces/'Stones soundalikes lead him through some '70s rawkin grooves (Last Stand Man, Hard Rain, Cold Change), the pub-ish feelgood vibe of some tracks (Run On Down The Line, Animal Tracks) is pretty close to what The Godfathers were about to deliver in a couple of years, and some greasy Blasters-like rockabilly is what Miracle Mile is about.
Still, the ones that seem to come off as most natural, are the bluesy stuff, with the backing here being provided by an imaginary harp-wailing Butterfield Blues Band (Sweet Thing, Open Up And Bleed), while it's with Let Me In and Dogman that they get as close to the very roots as it gets.
Along with the latter, it's the noisy garage-punk swamp psych of Love Attraction that makes the earliest pair of efforts, predating the album itself by two years. It's not likely that any of you will consider this for anything revolutionary, nor for another long-lost -classic or something, but if you're up for an hour or so of not quite conventional bluesy romp, this is far from waste of time.
[Released by Aztec Music 2008]