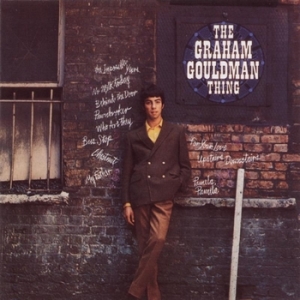 As put by Andy Morten in the accompanying liners of Tony Hazzard's solo debut released just a couple of months away (Rev-Ola re-issue reviewed elsewhere on these pages), with the "spookily similar career trajectory during the second half of the sixties", to the one of fellow British hit maker, it seems that "Graham Gouldman the artist" just wasn't meant to happen before the glory days of 10CC.
Another Hazzard-ous (well not really, but I just couldn't help it) reference point, is the actual content of this 1968 US-only album, made (mostly) of re-workings of own songs, already recorded/released by other artists, which I'm sure most of you will recognize yourselves. The first common impression that comes to mind as soon as you hear the album is that it's a genre defining baroque-pop album as much as any of the already acknowledged classics.
However you might be used to the original versions of The Impossible Years, Upstairs Downstairs, No Milk Today or Pamela Pamela, there's no doubt that you'll consider these to be at least just as great, along with the previously unrecorded My Father, and with Bus Stop being one of the highlights, thanks to John Paul Jones' string arrangement, kind of making it Graham's own Eleanor Rigby.
Sticking to Jones' orchestral accompaniments throughout the whole "thing", Graham tends to get a bit moodier as well, especially with the slightlydelic folk of Behind The Door, turning into an almost surprisingly upbeat r'n'b finale, and the waltzing and just as psychedelicate Who Are They.
Gouldman's "first significant composition" For Your Love (rejected by EMI for The Mockingbirds' debut single in early 1965) gets an even more commercial funky treatment, and a rare tag of "not being up to it's original standard", with Pawnbroker sharing a similarly happy-go-lucky vibe, in a jazzy Latino way, before the extremely surprising, and just as extremely groovy, Stax-astic r'n'b instro Chestnut, found at the very end of it all.
With The Mockingbirds' masters still shelved in the archives (at least as far as I'm concerned) waiting to be re-issued, it's about time for this "thing" to start spreading as it deserves.
[Released by Rev-Ola 2007]