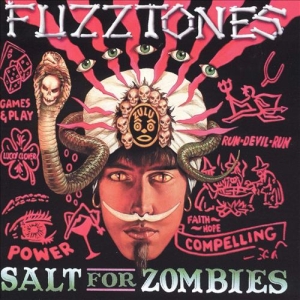 This is a fine example of how it really should be done, for all the newborn garage heads hit by the "white stroke".
Being one of the sixties garage revival pioneers, I must admit that, with the last couple of albums, I had a feeling that they drifted away a bit from the initial concept themselves, but this is where they're turning back to their own roots.
Two thirds of the album are carefully chosen covers of garage/psych classics that never were, like the spooky riff-leaden pair of My Brother The Man and Face Of Time or the Shy Guys' 7-minute freak-out Black Lightning Light, sounding like The Spencer Davis Group gone punk, or the more familiar Don't Blow Your Mind by The Spiders.
As for the originals, there are only five of them, but they're worth the price of the admission alone. The album's highlight might be Johnson In A Headlock with it's Farfi-sized garage beat fuzz at it's best, Get Naked is a moody punk ballad, This Sinister Urge is sure to "light the fire" of any Doors fan, while still maintaining the expected garage vibes, and the remaining pair of Hallucination Generation and Idol Chatter covers the darker corners of the eastern-tinged psych feel.
If it happens that none of the above can convince you to get hold of this piece of vinyl, I suppose mentioning a couple of guest appearances by the likes of James Lowe or Sky Saxon, might be of some help.
[Released by Teen Sound 2005]