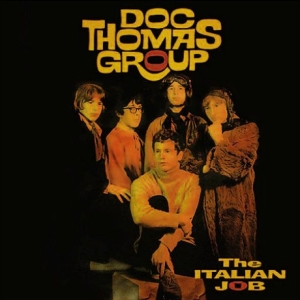 A Pete Frame kind of a family tree would've probably been too branchy to be included within the already chunky booklet, and not to mention a 200+ word review, so to cut the long story short, this is sure to be of essential interest to Mott The Hoople fans!
After quite a few band name changes throughout the early '60s, on and around the Brumbeat scene, the core of the line up, with Mick Ralphs and Pete (Overend) Watts included, settled for a while with Doc Thomas Group (as suggested by Ralphs one-off deputy, Dave Mason!). Gigging around Italy, soon lead to a recording contract and an appropriately titled LP released only on Appenines.
The content is 100% covers, recapturing the band's stage act, consisting of a pretty much usual soul and r'n'b repertoire, including what I consider for an ultimate version of The Velvettes' (S)he Was Really Saying Something, reminding of The Action's kind of a blue-eyed soul. Another one worth the mention, is the Atlantic soul classic Rescue Me, turned into a Motown one, using the same, just mentioned template.
The other half of the re-issue is the debut release by The Silence, one of the pre-DCG bands, recorded no less than 35 years after their demise, with another set of covers of even older material, along with a pair of originals thrown in just for the fun of it. Kudos for Angel Air's MUCH improved artwork and packaging!
[Released by Angel Air 2008]