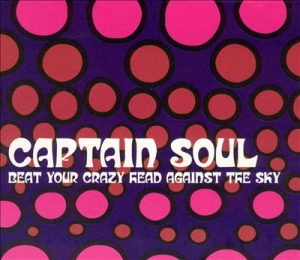 Islington, England… the place of another Alan McGee discovery under the roofs his new pop colony. With a name that simply prejudices an archetypal place in the pop universe, Captain Soul has all that's needed to really make it happen!
Front man Adam Howorth is the author of the material consisting of all the necessary ingredients that make a nowadays guitar-pop masterpiece. One of the definitions that comes to mind and gives a pretty close picture of it is: "the missing link between the two Stone Roses records!"
It certainly doesn't mean that we get some kinda clone but it's simply the closest thing that we were expecting after the anthological debut instead of the Zeppelin-ised psych-rock mutant that isn't bad at all just a bit surprising. Adding their own sound-stamp packed in a real grandiose production, Captain Soul came up with an album worthy of such comparisons.
The first two singles, T-shirt 69 and Your Time summarise the story with classic, British '60s harmonies, punk-energy and modern sound. One after another you hear potential instant hit-singles like There Goes My Life Again, Something To Believe In, Last Chance Saloon…
There's also a bit more progressive, "spiritualized" approach with some extra harmonized vocals and melodies that stay forever, in Coming Up For Air and The Orchestra Plays, while some British folk tradition can be heard in Fragile Like A Butterfly.
After an album like this, we can finally forget Ian Brown and John Squire their internal misunderstandings that stopped one of the most beautiful/controversial stories in rock'n'roll.
[Released by Poptones 2001]