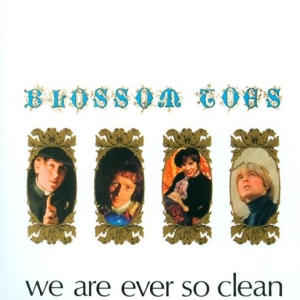 If there ever was a genre defining Britsike classic, the Blossom Toes' debut album must the one!
Having paved their way into the show business, through a soul/r'n'b workingmen's career as The Ingoes, by late'66/early'67 "four fresh faced lunatics, under the charismatic guidance of Giorgio Gomelsky" started throwing in some "whimsical and foolish songs" into their repertoire, "attempting to conquer the wonderful world of pop music".
At the time having been accused for being too Beatles/Kinks sounding, Blossies actually managed to come up with their own brand of witty sound, by throwing in Syd-like quirk into the prescribed Beatlisms, with Look At Me I'm You, I'll Be Late For Tea, Telegram Tuesday, When The Alarm Clock Rings and You from their Marmalade debut being the most authentic examples of this weird kind of "revolving" popsike.
Supposedly the quirkiest they get is in the "pretty" toytown-ish ditty called The Remarkable Saga Of The Frozen Frog, while of the more commercial sounding ones, first there's the pair appropriately chosen for the debut single, What's It For?, an orchestrated blue-eyed soul number by way of Blood Sweat and Tears, and Mrs. Murphy's Budgerigar, a happy-go-lucky, almost Hermits-like pop, with just an additional twist or two, to make it blend in, and there's People Of The Royal Parks, which is a genuine Kinky piece of vaudeville.
There's also a couple of moodier, so called baroquirk tunes, with the chello-laden Love Is being a Nick Drake reminiscent one, along with Mr. Watchmaker, recalling Sgt. Macca at his most adventurous, and I Will Bring You This And That sounds kind of like The Action getting "brainy" instead of soulful.
Along with a chunky little info/photo-laden booklet, the re-issue is expanded with no less than 10 (!) bonuses, featuring unreleased demos, live recordings, as well as an incredibly surprising sounding LP outtake Everybody's Talking (NOT Nilsson's one), which finds them at their Stills-fronted-Buffalo Springfield-at-their-best, as well as the non-album single side I'll Be Your Baby Tonight, being a pretty loose country-ish take on Dylan's tune.
Being "the band as he wish to remember it", as put by Brian Godding himself in the accompanying liners, the post-Ever-So-Clean Blossies don't really seem as the same band, which is exactly what they wanted, aiming for a more down-to-earth, so called "if we can't play it, we don't do it!" kind of a delivery.
Released at the very end of the decade, their second album shares most of the defining points of the moment, such as progressive dramaturgy, with an occasional Hendrix-inspired power chord or two (Peace Loving Man, Kiss Of Confusion), some West Coast-ish psych by way of Quicksilver or Big Brother (Listen To The Silence, Wait A Minute) as well as lengthy blues-laden jams turned into songs, sometimes sounding not unlike Humble Pie (Billy Boo The Gunman).
All competent enough, but for a genuine Blossom Toes fan, it's the additional demos, and non-LP sides that make the re-issue really "blossom", especially the in-between-albums single, coupling Postcard and Everyone's Leaving Me Now, both "clean" enough, with the former finding them halfway between The Small Faced cockney swagger and Tony Hazzard-like wit, while the latter suggests their upcoming more progressive side, by way of jazzy Zombies-intelligence.
If only there for a moment, Blossom Toes' have left an undeniable mark on what's now being considered for genuine British pop psychedelicacy, and it was about time for their legacy to be given a treatment as proper as this.
[Released by Sunbeam 2007]