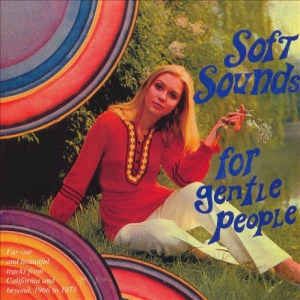 – Far-out and beautiful tracks from California and beyond; 1966-1971 –
It seems that releasing "soft-sounding" popsike compilations, becomes a common thing lately … which is GOOD!
This one could be a perfect companion to the 2nd and 3rd volumes of Fading Yellow, as well as Misty Lane's Bring Flowers To U.S., all dealing with late sixties audio treasures from America. Even though most of the bands/artists involved are pretty obscure to the average listener, there's always a "famous name-dropping" section.
Here, you'll hear David Axelrod's jazzy arrangement of the opening track by Moorpark Intersection, an excerpt from the Bread-man David Gates-produced Pleasure Fair album, an ex-West Coast Pop Artist, Shaun Harris' solo single from '71, released as Brigadune, then, there's Paper Fortress, masterminded by Tandyn Almer, recapturing the popsike essence known from his previous involvement with the Association and Sagittarius projects, just like the quirky, eastern-influenced sound of the Serendipity Singers, which comes as no surprise, knowing that, among others, Jake Holmes also wrote for them.
After being Screen Gems' songwriters (including a Monkee-song) Travis Lewis and Boomer Clark were given a chance to record an album of their own as Lewis & Clark Expedition in 1967, off which you can hear Blue Revelation, one of the world's main "bubblegum-chewers" Jeff Barry has gone psych, writing and releasing a tune for the Rich Kids, and The Fun and Games' Left Banke-ish power-pop It Must Have Been The Wind is another example, though maybe a bit unusual, of the Gary Zekley-production.
As for the other highlights, there's a couple of super-groovy, upbeat tunes by The Avant Garden, that is sure to make you feel "naturally stoned", sounding not unlike the Mojo Men/2nd edition and it's perfect follow up by Jim and Dale.
The Stained Glass deliver a great '66 folk rocker, with a drop of olde English tradition and the same year, The Deep Six released C'mon Baby (Blow Your Mind), which is kinda like the Mamas & Papas laying harmonies over a spy-soundtrack instro.
Though I seem to be heading towards the complete track list, I just can't help but mention a coupla more, like the 1970 acid-folk tune Grains Of Sand by Marcus (aka Rusty Evans, formerly of The Deep/Freak Scene), the Donovan-like good-time popsike sound of The Parade's A.C.-D.C., the Peppermint Trolley Company's late-'60s Kinky storytelling 9 O'Clock Business Man, the Underground Sunshine track Take Me, Break Me, in verses reminding of the SF-period 'Pretties ….. A LOT, and the Hollie-flavour of Fargo's Cross With No Name.
I don't know if you consider yourself gentle, but believe me, it's worth becoming one, just to make sure you hear this!
[Released by Pet Records 2003]