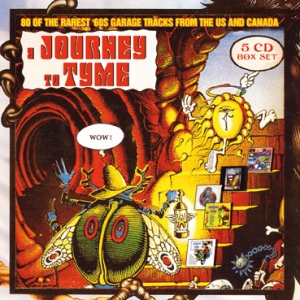 – 80 Of The Rarest '60s Garage Tracks From The US And Canada –
Considering the fact that the five volumes of A Journey To Tyme series were originally released way back in the mid '80s, the "rarest" part of the subtitle isn't quite up to date, but it's still nice to have them all gathered into one groovy little box of slightlydelic fuzz'n'jangle. Some of the entries by the likes of THE SONICS, THE MOVING SIDEWALKS, THE UGLY DUCKLINGS, THE RATIONALS, THE CRYAN' SHAMES or THEE MIDNITERS have not only become widely available in the meantime, but are almost verging on the border of '60s mainstream!
Another advantage is that both sides of sole singles by Arthur Lee's AMERICAN FOUR and Iggy Pop's IGUANAS are present. Besides these, there's quite a few of those still rare and obscure enough after all these years, all more than worthy to be reminded of once again, and what's more, there's a couple of my own all time faves included as well, such as THE UNRELATED SEGMENTS' '67 debut's B-side It's Unfair and THE ENFIELDS' I'm For Things You Do. Not that anyone will mind, but THE POETS and THE RATS are British "intruders" squeezed among US and Canadian entries, while Doctor Friend by THE DRUIDS is such a genuine 65/66-Kinks imitation, that it can almost be considered for one as well.
[Released by Psychic Circle 2009]