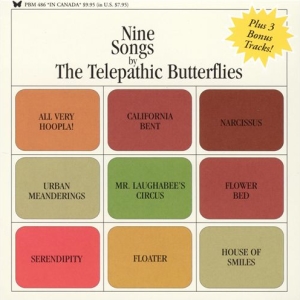 At first, you'll maybe find yourself wondering what do they mean by "all very hoopla", but after you hear this album, you'll know that this is it, very much, whatever that means.
You've probably already read about the band's Beatles reminiscing, but to me, it's actually more of a reminiscing of some other bands of the time, that also borrowed some of the Liverpudlians' ideas. If you cannot afford the new British Nuggets box, this is a perfect starting point, cuz with this CD, you get something that's close enough to the "sixteez Brit-psych sampler".
It all starts with the mentioned, appropriately titled, All Very Hoopla!, with it's almost-shoegazing take on the "revolver" sound-shots, followed by the Hendrix guitar-riff of Urban Meanderings, "MOVEin' " through the popsyke verses right into the more contemporary sound "oasis" in the chorus.
There's also an authentic, funny-sounding name in the title of Mr. Laughabee's Circus, which was a common thing in the Britpsych concepts, and it sounds just like Syd would've sounded ""tomorrow".
The song Floater, with the line that goes "floating in a dream, in a psychedelic scene…", creates the "Butterflies" own identity, gathering all the influences into one ultimate "telepathic" item.
The funny thing is that there are actually 12 songs on Nine Songs. What you get as a bonus, are three acoustic/cello arrangements, including a great cover of the kaleidoscopic-folk sound of the British troubadour Donovan (Epistle To Dippy), and an imaginative Davies/Bowie collaboration called Yearbook.
Sit back in your sofa and float away on the telepathic sounds cape.
[Self-released 2001]