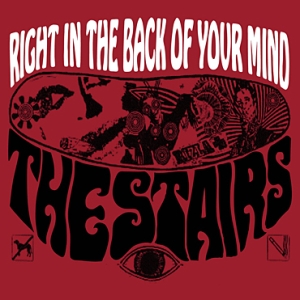 Even though I might be among only a handful of people to consider this one "a long awaited second album", I'm sure that every decent, hip-shaking, moptopped garage head will find this trip into the "back of their mind" an exciting one.
Leading a bunch of "big kids" up'n'down "the stairs" over more than a decade and after having spent time lending his skills to luminaries such as The La's, Paul Weller, Ian McCulloch …, Edgar Summertyme is being considered one of Liverpool's moderndaze unsung heroes (Jimmy Campbell anyone?). Compiled on this CD are some of The Stairs' recordings before and after their one and only Go Discs! album Mexican R'n'B from 1991, ranging from bedroom demos to full-blown studio blast outs.
Besides early versions of some of the "Mexican" tracks such as the genre defining garage r'n'beat stomp of Weed Bus and Mr. Window Pane, the psychedelic rave-up of the title tune, the punkish country of Out In The Country, the quirky Kinky-Beefheart sound of Sometimes The World Escapes Me, and the Byrdsy popsike of Laughter In Their Eyes, there's also quite a few other nuggets to be heard, such as the slightlydelic Gouldman-through-Yardbirds-like Fall Down The Rain, the blue-eyed soul formula of It Was Alright, which Edgar was soon to dig even deeper into with The Big Kids, the Creamy heavy psychedelic blues of Stop Messin', or the 'Stoned late'60s rawk-out of Cabbage Man.
Unexpectedly so, there's also an Untitled ballad finding them "coming down the stairs" in an equally "Stoned" way, and there's also Happyland, described by Edgar himself as them "playing quite happily at being The Beatles in the studio with Norman "Hurricane" Smith", which happens to be exactly what it sounds like, at it's quirkiest Syd-through-Lennon best, while the most surprising of them all, must be the closing hidden track, sounding like a garage punk cover of an imaginary Pet Sounds tune (!).
With last year's solo debut Soothing Music For The Stray Cats, being Noel Gallagher's album of the year, Edgar is back on the scene, but it's good to know that The Stairs are still "in the back of his mind".
[Released by Viper 2006]