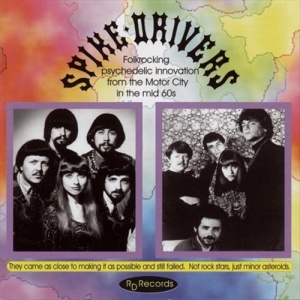 With such a descriptive title, perfectly capturing the general mood of this Detroit band, this collection almost needs no review at all.
You'll be assured to this fact as soon as you hear the opening lines of their '66 debut single's b-side (the longest single track at the time?) Often I Wonder or (appropriately titled) Strange Mysterious Sounds, both with a doze of (U.S.) "Kaleidoscopic" darkness combined with eastern influenced folk-psych.
Even when they get a bit more conventional musically, like in the 'Spoonfulish Baby Won't You Let Me Tell You How I Lost My Mind or the Hendrix-gone-folky Blue Law Sunday, the lyrical concept is still a bit moody.
Though they've never reached the commercial heights proportional to their possibilities, the one that should've taken them to the topper most of the poppermost is their super-jangly a-side of their debut called High Time, and besides all of these, there's also an unexpected goofy, Bonzo-Doggish take on the Californian saga, Baby Can I Wear Your Clothes.
The Spike-Drivers' second edition was a bit "wilder and freer" though not necessarily "stranger and funnier" as band member Sid Brown puts it in the liner notes.
Portland Town continues the eerie folk-psych sound of the early singles in a kinda Slick-y, way with an addition of almost classical string arrangement, to be followed with a coupla classic psych tracks, with an omnipresent middle eight fuzzed-out rave-up, like in Everybody's Got That Feeling, the spiritual I Know or Time Will Never Die, and you'll even find a bit of a honky tonk finger pickin' in Grocery Store.
The third segment of the CD is made of two folk-rockin' '65 demos, Can't Stand The Pain and the Holly-ish I'm So Glad.
Another funny description of the 'Drivers recorded output comes from another Sid Brown quote : "pharmacoexistental explorations of love", unfortunately leading them to "suck-cess", which really isn't where they belong.
[Released by RD 2002]