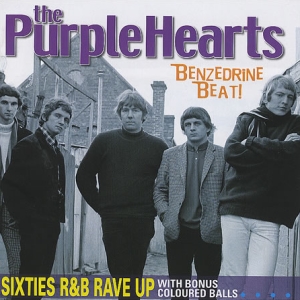 Having more than enough British origins within their changing line-up, The Purple Hearts made sure that the mid'60s r'n'b boom shakes the Oz ground just as hard as it did in Britain.
Featuring the band's entire recorded output, along with some unreleased early recordings, as well a taste of the post-'Hearts Coloured Balls' live sound, the usually FAB Half A Cow packaging is sure to make you go: "Holy Cow!!!"
Visually bearing quite a resemblance to The Action's kind of a casual mod look, or in the earlier daze to the one of The Eyes, musically they were much closer to the unrestrained loose sound of the likes of The Pretty Things or The Downliners Sect, starting out with a bit rootsier approach, which they were still sticking to by the time of their debut single in late 1965.
With the usual white-boy take on Here 'tis, though they already do get quite adventurous, to say the least, on the single's b-side Long Legged Baby, with guitarist Lobby Loyde (considered for the first Aussie guitar hero), going pretty wild on his Burns 12-string.
The early '66 raving follow up, pairing up Of Hopes And Dreams And Tombstones and I'm Gonna Try, might as well be The Purple Hearts' finest moment, encapsulating the very essence of the CD title, with the formers blue-eyed freakbeat, if there ever was one, and the latter's fuzzed-out garage punk attitude.
After which they experienced their most psychedelicate moment with the moody, Eastern-tingend rendition of Early In The Morning, backed by the frantic Diddley-beaten stomp of Just A Little Bit, with the vocal delivery which along with The Rascals-on-speed-like You Can't Sit Down and the "posthumously" released single Chicago, suggest that they might've been found on the turntable of young Percy Plant, along with some of the early Small Faces stuff.
The bonus Coloured Balls tracks, featuring ex-Purple Hearts Bob Dames and Mick Hadley, with a bit heavier bluesy sound, brought by the end of the decade, display what might be considered for a pretty natural progression.
[Released by Half A Cow 2006]