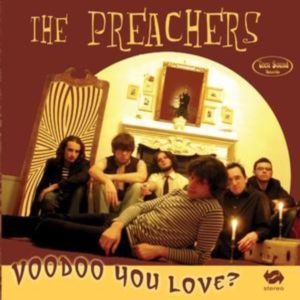 Besides the "foreword" by Batlord himself, as well as an additional "warning" in the liners that The Preachers shouldn't be taken for Fuzztones-clones, it's really "preaching" the gospel of fuzz that they're the best at.
They make it all pretty clear (more like fuzzy actually) right from the spooky, organ-driven, phantom-ized garage psych of the opening Ants Room, or even more so with Hell-o, leaning on the same "people" as their "brother the Fuzz'men". However, my favourite must be the more Brit-sounding piece of a freakbeat called Child, soaking in the skinny-tied new wave splash.
Besides these, what else you get is some noisy Stooges-like cacophony, as well as a pair of cool covers, with The Bag I'm In being an adventurous, punky little rendition of the Fred Neil original, while My Little Red Book stays pretty true to the Love version.
So, being clones or not, The Preachers still deliver a healthy dose of fuzz, which I'm sure you won't mind besides your Fuzztones records, without having to decide "voodoo you love" more.
[Releasde by Teen Sound 2006]