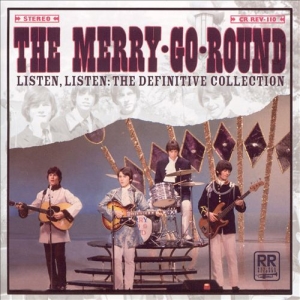 – The Definitive Collection –
… and definitely about time too!!! This must be among the ones on the very top of the list of re-issues waiting to happen, which it finally did, and it was more than worth the wait!
Covering the complete recorded output by the band, as well as Emitt Rhodes' debut solo album, which also started out as The Merry-Go-Gound, this is another one in the line of Rev-Ola-utionary releases of the usual quality, complete with Steve Stanley's detailed liners, spread over 24 pages (oh, and kudos to Rev-Ola for opting for the conventional, instead of the usual fold-out version).
However strange it may sound, in spite of two hit singles, the legacy of The Merry-Go-Round remains an obscurity for a wider audience, so here are no less than 28 reasons why the rest of us were so eagerly awaiting for this to see the light of the day.
The opening goes to the first of the hits, the upbeat West Coast-ish harmonizer Live, with the formula repeated quite a few times, as also heard in We're In Love, followed by some eclectic Byrdsy jangle, reminding of the early works of David Crosby (On Your Way Out) and Gene Clark (Had To Run Around), and then goes the other hit single, the beautiful Nick Drake-sounding baroque pop of You're A Very Lovely Woman, and the same baroque'n'roll subtlety continues in Come Ride, Come Ride.
While re-discovering the American roots, The Merry-Go-Round sound not unlike their close soulmates, Buffalo Springfield, as heard in Early In The Morning or A Clown's No Good, while Emitt sure knew a thing or two about the British folk legacy too, which he proves with Mother Earth.
The usual Beatle-kind of Britishness comes to the fore in the pair of fuzzy Monkee-Beatlisms called Gonna Leave You Alone and Listen, Listen and a couple of Macca-through-Rundgren pieces like Pardon Me (complete with the "fool"-ish solo), or Someone Died and The Man He Was, as well as some Lennon-ish '67 Britsike such as Holly Park and Days Of Old.
While we're still at it, Missing You is another piece of classic Britsike, sounding like one of the best Idle Race tunes that Jeff Lynne has never written, while Let's All Sing and 'Til The Day After, take it a coupla years further, towards the Badfinger-pickin' sound. As a bonus, besides the album version, the kaleidoscopic audio puzzle Time Will Show The Wiser, comes in its mono single version too.
Anyway, after a long while, The Merry-Go-Round goes round again, so don't let yourself miss it once again.
[Released by Rev-Ola 2005]