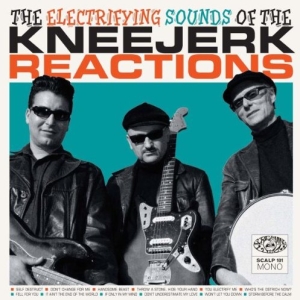 Even though they'd "rather knot be pigeon-holed", pretty much all of the content of the Kneejerk Reactions' long playing debut can be described as American-by-way- of-genuinely-British-sounding-r'n'b, recorded in glorious mono and as the press release says "fresh as a 1965 Shel Talmy produced single"!
With the band members Sir Bald Diddley, Bruce Brand and Gez Gerrard honing their chops in the best of British r'n'b boom revival bands through out the years, along with ex-Toe Rag engineer Ed Deegan twiddling the knobs, the resulting sounds couldn't have been more electrifying.
The opening Self Destruct will grab you instantly, with it's Yardmerising, birdmerising, in fact most blueswailing of sounds, and it's pretty much how it stays for the next half hour or so, be it Diddley-through-Pretty Things (Handsome Beast), Beefheart (You Electrify Me), Kinky riffsploitation (Don't Underestimate My Love, Won't Let You Down), The (British!) Birds (It Ain't The End Of The World), The Downliners Sect (If Only In My Mind) or even blue-eyed soul punk, if there ever was one (Who's The Ostrich Now?).
In short, probably the best British r'n'b album ever since the initial boom!
[Released by Screaming Apple 2009]