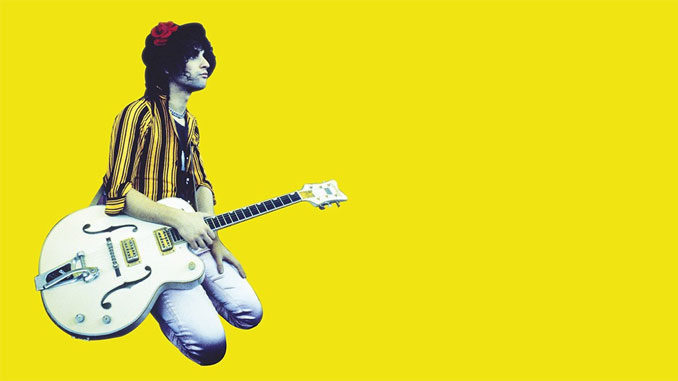 The New York Dolls was one of the few shining stars in the dark age between The British invasion and the punk rock movement. They lightened up the otherwise rather boring rock scene in the beginning of the 1970s – not at least by their flamboyant and transgender appearance. The New York Dolls can be regarded as one of the few bands from that time period that truly pushed the boundaries of rock to such an extent that they eventually became forerunners. Their two albums did not sell very much at that time, which makes them some sort of a cult band with few but faithful followers that were inspired to get together and start mixing their own flavor of noise and spectacular outfits.
In There's No Bones In Ice Cream [Omnibus Press, 2018] we get to know Sylvain Sylvain's Jewish background in Cairo, Egypt, where he grew up. His family migrated in the '50s because of growing tensions in Egypt; first to Paris, France, and then to Buffalo (NY, USA) before they finally settled down in New York City. A series of lucky coincidences led Sylvain to form The Pox (1967) with Billy Murcia – who became the original drummer in The New York Dolls. The three other members joined in the process. According to There's No Bones In Ice Cream it is obvious that Sylvain Sylvain actually was the glue and primus motor in The New York Dolls. This fact is not widely known since Sylvain put himself in the shadow of David Johansen and Johnny Thunders – maybe because he wanted to avoid conflicts – and allowed them, for instance, credits to some of the songs that he had been instrumental in conceiving.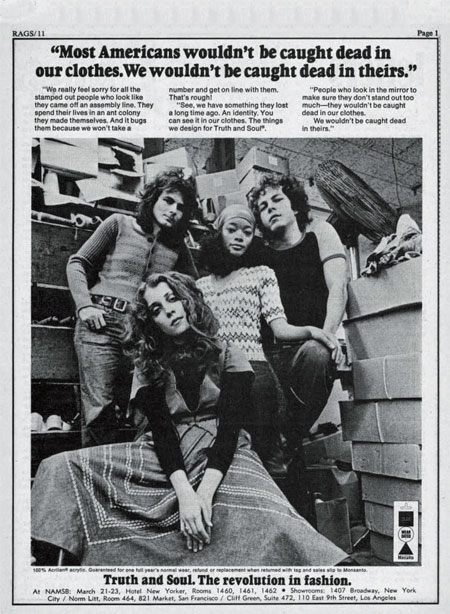 A somewhat surprisingly skill that Sylvain Sylvain developed – along the lines of his family tradition – was design and tailoring; a knitwear clothing line. These skills became worthwhile as a mean to stabilize the young man's wobbly economy. He even had a shop as part of his business in Woodstock, upstate New York, where members of the hip artist community were keen to buy this type of clothing. Besides inspiring the dress code of the members in The New York Dolls, Sylvain's interest in fashion also made him cross paths with Vivienne Westwood and Malcolm McLaren in New York City very early in the '70s. They kept contact, but McLaren misguided advise to The New York Dolls to wear red patent leather and adopt a provocative attitude by flirting with communism did not stop them from falling apart in 1975. McLaren's promised invitation to Sylvain Sylvain to join The Sex Pistols first line-up did not come to fruition neither. Things would have been quite different if this fusion had happened.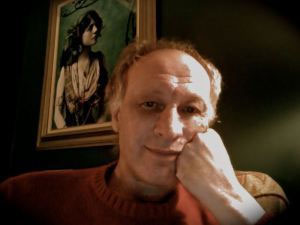 There's No Bones In Ice Cream overlaps with and complement Nina Antonia's Too Much Too Soon – The Makeup and Breakup of The New York Dolls [first edition 1998]. Sylvain's co-author, Dave Thompson, seems to a veritable writing machine with half a library of rock books on his conscience, although his name is shamefully absent on the book cover of There's No Bones In Ice Cream. Unleash your own author creativity by checking out his namesake's formula in: Inspirational Book Writing: The Proven System To Write Your Book In A Week, Be Published 6 Weeks Later, Become A Best Seller and Uplift The Consciousness Of The World [2016].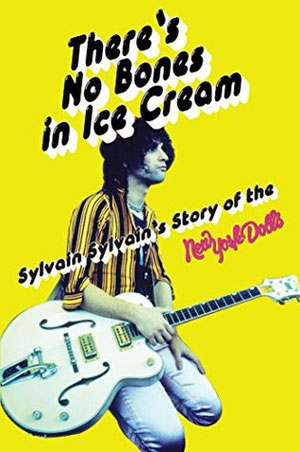 Since There's No Bones In Ice Cream concentrates on the time period up to 1975, it lays the tracks for the next book since it would be interesting to learn more about the not very well documented post Dolls period during which Sylvain Sylvain for example started The Criminals, backed David Johansen and launched a solo career before the two remaining original members (Sylvain Sylvain and David Johansen) reformed The New York Dolls in 2006.
Read the book to get Sylvain Sylvain's personal perspective on the formative years of The New York Dolls and their intense and bewildering years as one of the most extravagant features of the rock scene at that time. But do not expect Sylvain to get too personal; there are indeed some scandalous details, but overall There's No Bones In Ice Cream keeps a sound distance to all events in the telling and Sylvain has a sober integrity that underpins the book's trustworthiness. He also paints a vivid picture of the rough urban environment at a time when spiraling criminality put New York City on a slippery slope. Hats off to Dave Thompson who pieced this story together in a competent manner.
Show me who your friends are, and I'll tell you who you are – a 2×7 selection of originals that The New York Dolls covered and covers of The New York Dolls' original
Things are not always what they seem at first glance. Despite oozing glamour and extravaganza, The New York Dolls mainly covered rather down-to-earth black artists from the '50s and '60s. Common for these tunes is that they have a certain hook in the lyrics or melody which make them stand out from the rest. These songs are by no means obscure – low-hanging fruits for the members to pick and to put their special mark on.
Otis Redding – Don't Mess with Cupid
Bo Diddley – Pills
Sonny Boy Williamson – Don't Start Me Talking
Archie Bell and The Drells – Showdown
The Cadets (rather than The Jayhawks) – Stranded in the Jungle
The Coasters – Bad Detective
Otis Blackwell – Daddy Rollin' Stone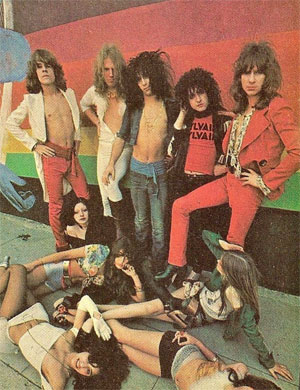 Their two albums (The New York Dolls from 1973 and Too Much Too Soon from 1974) contained 16 original songs that have been picked up by many punk/hard-rock bands. Below there are examples of these recordings during some 40-year, or so, span. Specially inclined are advised to get overkilled by the tribute to The New York Dolls: Jetboys Of Babylon [2005].
Sonic Youth – Personality Crisis
The New Bomb Turks – Bad Girl
Poison Idea – Vietnamese Baby
Slaughter and the Dogs – Who are the Mystery Girls?
Redd Kross – Puss'n'Boots
Geoff Starr Rock'n'Roll Band – Looking For a Kiss
Zeros – Chatterbox