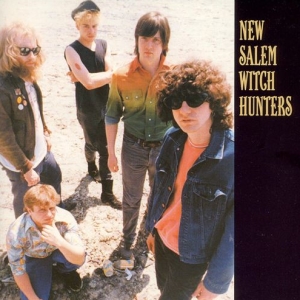 Even though it's not very likely that New Salem Witch Hunters will get an introduction into the R'n'R Hall of Fame in their hometown of Cleveland, being at the forefront of the '80s garage punk revival seems like a reason good enough for the re-release of their '86 debut album.
Covering most of the mid-to-late'60s freakier side of garage punk, the "hunt" begins with a spoonful of Seedy folk-rock mood of Bad Cattle, followed by a bit more melodic Byrdsy approach of Headed For A Change and later on (It Seems Like) Summer's Here At Last, both still firmly sticking to the same punk-ish delivery.
If released sometime in '66-'67, At The Border, with it's descending, Gouldman-nered chord structure, and Goodbye/It's Time/To Die, another jangly teen-punk-anthem-that-never-was, could've gained at least some local chart action, and talking about action, Falling, which actually was released as a single, "shakes some groovy one", while mostly thanks to Dave Atkins' vocals, sometime they tend to "elevate" things up to the 13th floor, most notably in Jeno's Day (Of Big Decisions) and Love.
I still haven't had the chance to hear the also recently released debut by The Higher State, from England, considered for another bunch of American, and especially Texan, folk-rock punk practitioners, but for another reference, this sure sounds not too unlike the pre-Higher State band The Mystreated.
[Released by Get Hip 2006]