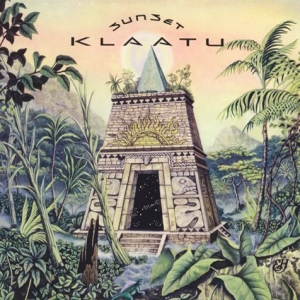 To cut the long story short, during the mid'70s, everybody thought they were The Beatles in disguise (which they weren't, of course), by the end of the decade everybody was accusing them for trying to be The Beatles (which they most certainly weren't neither), and now everybody (well at least those who should) knows that they were at least as good as The Beatles would've been, had they continued throughout the seventies ….
And now after Bullseye had re-released their regular albums, the evidence is finally open for everyone to hear. Still, if you happen to be one of "the loneliest creatures" and a new one to "call the occupants", you should be "off you know" with this particular release, which, even though it gathers unreleased/7" mixes and demo recordings, happens to be the ultimate Klaatu item, which not only contains almost the entire released output, but the versions included here are mostly superior to the ones on the regular albums.
For those of you still not really aware of what to expect, besides the mentioned obvious influence, most explicitly featured in the pure Macca Beatlisms of Sub Rosa Subway, We're Off You Know, A Routine Day or Magentalene, spiced with a dash of George too in Hope, the scope of the Klaa-tunes is widened with some fabulously quirky Britsike of Doctor Marvello.
And some more of the same with an additional toon-town-ish element of Sir Bodsworth Rugglesby III and Everybody Took A Holiday, and then there's the Barrett-like whimsy of Cherie, which, in this unreleased single mix, sounds as if it could've been the highlight of one of Syd's solo albums.
California Jam is kinda like The Beach Boys-by-way-of-Raspberries, while For You Girl and Tokeymor Field could stand proudly alongside Brian Wilson's most adventurous works, and in Calling Occupants (Of Interplanetary Craft) Klaatu even had their own pocket symphony to share.
During their latterdays, in an attempt to try and grab a bit of the media attention on their own right, without The Beatles references being thrown around, they managed to come up with a couple of super-catchy genre defining power-pop gems such as Howl At The Moon, I Can't Help It, At The End Of The Rainbow or another Raspberry-flavoured one called Paranoia, with a bit of Rundgren thrown in.
Some of the band's rare folky moments are featured through All Good Things, which reminds me of John Sebastian as much as White Album-era Paul, I Don't Wanna Go Home, also sharing some of it's intimacy with Big Star's Thirteen, and there's also the Byrdsy folk-rocking jangle of There's Something Happening, which remained unreleased until now, which isn't that much of a surprise considering that, besides being as good as any of the highlights, it might seem a bit out of the overall concept.
So, I could go on forever trying to explain why there's no question that every decent pop fan should have at least a couple of Klaatu albums on their shelf, but I suppose that we should stick to their initial catch-phrase and "let the music speak for itself".
[Released by Bullseye 2005]