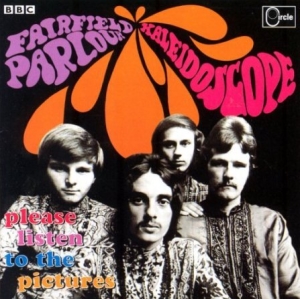 "Right baby, hold tight! Here is some more mind-blowing sounds" goes the Austin Power-ish BBC announcement, "reviewing" this album in one line ….. well, it's two actually, but none less appropriately describing Kaleidoscope's "sounds of tomorrow".
With it's usual "circle-shaped", beautifully designed, super-heavy booklet, Circle "humbly offers us the colours … and the BBC sessions", often sounding almost superior to the actual studio recordings of the same songs. Even if you're among the ones unfamiliar with the band's output, you can't go wrong starting here.
The technicolour "pictures" that you'll hear, will give you the right insight into their perfect balance between Barrett-like quirkiness Flight From Ashiya, A Dream For Julie) and Idle-Racing-Move-ments through Tony Hazzard-ish pure pop (Do It Again For Jeffrey, Balloon) or mixing them both, like in Dive Into Yesterday or The Murder Of Lewis Tollani, throwing in some nice Bee Gees-ey verses.
Bless The Executioner is a Brit-folky protest song with the significant Donovan-resemblance and Snapdragon is the moment where they remind us on their American namesakes, after adding a bit of an Eastern flavour too.
For completists, of special significance will be the first ever appearance, since it's initial '60s radio airing, of Jump In My Boat, as well as, though in a rather poor home-taped-off-air quality, the '67 version of Faintly Blowing, predating it's studio version for almost two years and a pair of only known live-recordings of the band (Do It Again For Jeffrey and (Love Song) For Annie).
The change of name to Fairfield Parlour hadn't brought much of a change in the musical direction, except introducing a whole bunch of exotic instruments into the already imaginative song arrangements, remaining faithful to the characteristic melodic Britsike sounds (Bordeaux Rose, Free, Long Way Down), brainy folk tenderness (By Your Bedside, Monkey) while Aries even predates some of the post-Syd 'Floyd-ish vibes.
So, if you haven't already, as the title says "please, listen to the pictures" and join the "sky children".
[Released by Circle 2003]