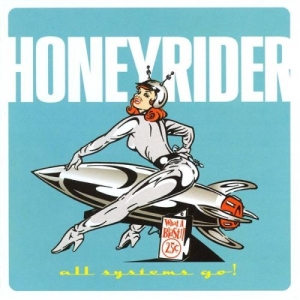 All the references about this record make you think of one man, Joe Meek.
It's Honeyrider instead of the Honeycombs, who by the way, also had an album in 1965 with the exact same title, then there's a song about the Galaxy Girl, and another one about the Space Girl and everything's intervened with a whole lotta sci-fidelity bits'n'pieces, all reminding of the sounds that used to come from Joe's "lab".
Though generally this is a great power-pop album, it would've been even greater had I heard it before last year's Sunshine Skyway, which is pretty hard to beat.
Anyway, there's plenty of pop perfection here, like Turn Me On or Summer's Almost Gone, all waiting to become a soundtrack of another Endless Summer … Hell, they even manage to make Lennon's "rain" into sunshine in Drugstore Shoot-Out, even though the title doesn't imply so.
Trying to come up with a precise description of Honeyrider's sound, I realized that there actually isn't a better one than what the press kit says and it's something about: "The Jesus & Mary Chain waking up in a rather fine mood, on a swanky/summer's day and having the fun of their lifes", which is especially evident in the mentioned Endless Summer and Galaxy Girl, as well as in Radio Heatwave or Superstar Lovemachine.
Having that in mind, producer Paul Simpson didn't really have a hard job, only having to continue what he had already done with The Primitives a decade or so earlier.
[Released by Orange Sky 2003 and Damaged Goods 1998]