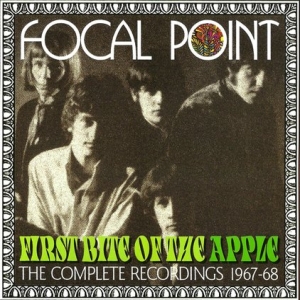 – The Complete Recordings 1967-68 –
If chasing Paul McCartney through Hyde Park for an Apple publishing deal, impressing Epstein and Lennon with demos, singing about John Mayall, getting a song almost released by Alan Price, or being dressed in a King's Road-purchased Dandy regalia, aren't enough a reference for another bunch of late Mersey arrivals to get things going, then all there is left to be concluded, is that there weren't really any goods to be delivered.
Still, even though your "first bite of the Apple" might've been the one through the 94 Baker Street comp a while ago, this second one definitely proves that the taste was always there, it just seems that there wasn't anyone to feel it.
However, with manager Terry Doran (later with his teeth in the Grapefruit too) the band did manage to occupy at least one latent part of the public's "focal point" in mid'68, releasing their only, now highly collectable single comprising the Mersey-ballad-gone-slightlydelic Love You Forever and it's b-side, Sycamore Sid, a blistering piece of Britsike, slightly reminiscent of The Small Faces' The Journey.
The rest of the set is made of an equally tempting bunch of (at the time) unreleased material, featuring more "kaleidoscopic" sounds, as heard in Miss Sinclair, finding itself halfway between The Turtles and Syd Barrett, a couple of dreamy Hammond-laden popsike numbers such as Hassle Castle, worthy of any Boettcher-related stuff, and the Lennon-ish pair of Lonely Woman and Far Away From Forever, the latter almost featuring Harrison on sitar, in it's already eastern-tinged arrangement.
Never Never, with an audible commercial potential, is kinda like the Hermits-on-acid, in Falling Out Of Friends, equal parts of The Hollies, Procol Harum and Arthur Alexander could be heard, Girl On The Corner has a kind of a sane-Barrett-ish charm about it, and while the post-Beatles-Macca-like melody of This Time She's Leaving takes them back home again, there's even a conscious attempt for the European Song Contest with another Ringo-like happy-go-lucky Beatlism called Goodbye Forever.
So, this is actually the third time this underrated band gets into the "focal point", and it's about time they really get caught by the public eye.
[Released by Kissing Spell 2005]