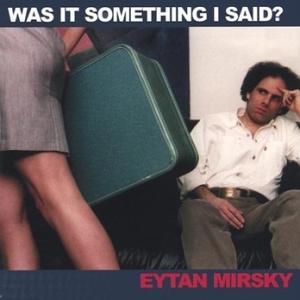 The work of the New York singer/songwriter Eytan Mirsky stands as a proof of the fact that the Americans remember the British mid-'60s invasion better than anyone else, which is pretty natural actually concerning the fact that it took place on their territory, while the British themselves took it for granted and soon placed it somewhere in the back of their memories.
Carefully taking notes, Mirsky transformed his impressions into three (for now) authentic pop items with unpretentious production, bringing the actual SONGS to the fore, which comes as some kinda refreshment in the moderndaze labyrinth of studio cacophonies. On Was It Something I Said? the book opens more than often on the Merseybeat and post-punk pop chapters delivering them in several combinations.
Some might find it intriguing enough to see the names of a couple of contemporary pop icons like Mark Bacino, Joe Mannix or Lolas who all contributed in the making of the album but soon enough it becomes clear that the artist himself is more than enough for an unforgettable sound adventure.
The mentioned yankee-interperetation of the Liverpudlian melodies is most evident in the songs like Leaving You and Cant Make Up My Mind with its characteristic "hard day'solo". Eytan's specific lyrical approach shines through the titles like the Nick Lowe-ish-with-a-dash-of-rootsy-sound couple When Good Girls Go Bad and Love Is For Girls and also in All The Things To Do When She Says No or (I Just Wanna Be) Your Steve McQueen.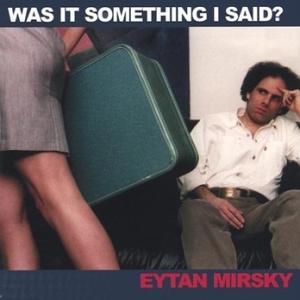 In some of the songs like Can I Get Any Lower? or Do I Have To Say It? with it's great repetitively-hypnotically guitar riff, Eytan skilfully hides the traces of his influences making them still sound so familiar at the same time.
Was It Something I Said? is a little album that's definitely needed in any serious pop collection because of it's exceptional content as well as for it's role of a balance to the megalomaniacal Oasis-like phenomenon's!
[Released by M-Squared 2001]