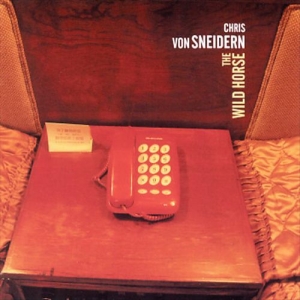 After hearing his first four mid'90s albums, peaking with '98s FABulous Wood & Wire, I must admit that I suffered a long-lasting gap when it comes to the music of Chris Von Sneidern.
Even this one, I am hearing with the one year delay, but anyway, I am happy to conclude that to me it feels like a perfect follow up to W & W, as if we both had a six year sleep and decided to wake up at the same moment…
And the awakening just could've been better than the Warner-era-Costello-like opening "trackarack" Remember, followed by what can't be too far from what Lennon might've sounded like these days (Glory Days Are Gone) and then the Sleepy Hollow cover (Take Me Back) making him sound exactly like Johnny did "up on the roof" (By the way, I'm writing this on December the 7th… could've been spooky in a day).
When it comes to "the other one", there's a bit of him here and there too, of course, be it his rawk-out-persona in Neighbor's Dog or hints of his most melodic ways in some tracks that are nothing but plain pop perfection (Finest Hour, The Ballad Of Zoe Snow).
Of course, Chris' American roots are far from being neglected, and what stands out to me is Identity, sounding like the Danko-fronted post-Big Pink Band, with just a dash of Neil Young, and there's also Horse House, which actually might've come from the mentioned Big Pink basement-sessions, taking Dylan's earliest folk roots on the Nashville skyline flight.
So, even if Chris falls asleep for the next five years or so, I suppose this one should keep me awake however long it takes.
[Released by Wizzard In Vinyl 2004]