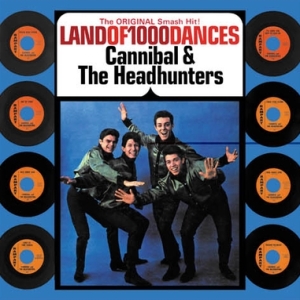 Speaking of so called "one hit wonders" Cannibal & The Headhunters is as genuine example as any, but what a foot-stompin', hip-shakin', heart-poundin' piece of a hit it was?!?!
I bet whomever you may ask, most of them won't even know who the original artist was, but they're all sure to know the song itself! Being among the originators of the L.A.'s East Side Chicano sound, the Headhunters' Land Of 1000 Dances has been serving as a show stopper in many-a-set-lists ever since the original's release in early 1965, with some of the most respectful cover versions being the ones by Wilson Pickett or The Action.
Despite being regarded for one hit wonders, as well as the fact that the bulk of their only album was made of hits-of-the-day covers, there's at least a couple of other shoulda-been-hits such as another pair of originals, Don't Let Her Go and Follow The Music, both perfectly fitting the above mentioned description of THE hit single, as does, naturally enough, Nau, Ninny, Nau, being a usual attempt at recapturing an already tried out hit formula, or the Devil In Disguise, which hits that Ray Charles-like r'n'b road, while The Fat Man is another, incredibly funky, harp-laden stomper.
On a more laid back, but just as danceable, side of things, I'll Show You How To Love Me and Please Baby Please are being considered for DooWop genre classics these days, Strange World is a kind of '50s-styled-ballad-turned-dancefloor-filler, and The Standells' Larry Tamblyn written Here Comes Love, seems to show the garage punk pioneer's softer side.
Not really an "all-killer-no-filler" kind of a thing, but most certainly more than worth checking out!
[Released by VampiSoul 2005]