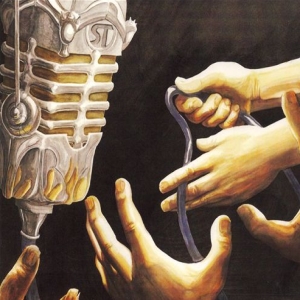 What a scarily FABulous way to start a career! Recorded in his own Brooklyn apartment, with a little help from a drumming friend, the album is being referred to as "a kaleidoscopic art pop concept, with gloriously eccentric imagination", which pretty much sums it all up.
Another thing that might be indicative enough of what you're about to experience, is the inlay's cartoon-like artwork, showing the inside of (supposedly) Bryan's head, chockfull of all kinds of quirky little weirdo characters, in a perfectly harmonious chaos, if there ever was one, which is exactly what it all sounds like.
The most audible common denominator are The Beatles, mutating from the obvious to barely recognizable forms, starting from grandiose, occasionally even up to the level of spiritual, Jellyfishin' treatments of Macca-on-acid-with-a-touch-of-Brian-in-the-livingroom-sand kind of psychedelic balladery of the opening pair of A Stab At The Sun and The Lessons I Learned.
The following Operaland, seems pretty close to what a Van Dyke Parks-like twisted Americana, would've sounded like, had it been recorded in late'60s Britain, and The Ceiling On The Wall, is a catchy little jazzy Latino-flavoured piece, as spotlighted by an "electric light", which is actually another thing that doesn't really "go out" throughout the whole album, with it's intensity going up and down, sometime within the same song.
The Lennon-ized entries tend to sound more soulful (The Tumbling Of Marguerite / Hold On George ….. with an additional obvious ingredient, as suggested by the title itself), or Dylan-ish-by-way-of-The-Band (Shedding Tears (All Over The Place)), just occasionally getting slightlydelic (Desdemona's Leaving Town).
Squeeze-ing in some extra catchiness, Macedonia Hotel kind of reminds me of an old (magnificent) Moodies' song called Stop!, from their debut album, funked up with a "Word"-like bass line, the supposed single The Bloodclub recalls Jeff Lynne at his most Beatlemaniacal, while the goofy Bonzoid Vaudeville/Music Hall atmosphere heard in the pair of The Up And Over Stairwell and Mrs. Gracy's Revenge! fits perfectly into the overall theatrical vibe of the concept.
Already accompanied with The Shredding Tears backing band, Bryan is all up for scaring the shit out of the world, so prepare yourself to be frightened!
[Released by Black & Green 2007]