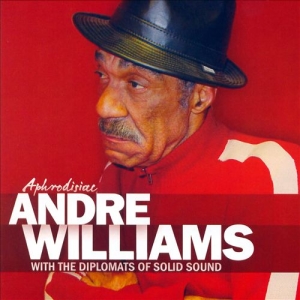 After the recent collection of his "greasy & explicit soul movers" from 1956 up to 1970 (reviewed elsewhere on these pages), early December sees the release of brand new recordings, with Mr. Rhythm already being accused for the lack of the more usual raw garage romp, and even being called "limp, floppy and dispassionate", which isn't really the case.
What might seem a bit misleading though, is actually the change from a more garage punk sounding to the much more slick, Hammond organ-ized, and modernistic sounding backing band. The Diplomats seem as if it's Andre's grawl that was the only thing lacking to their otherwise already groovy vibes, to take them even closer to the actual source, as heard in the funky stompers such as The Hold Up, I'm Not Worthy, I Don't Need Mary (Juana) or Chrysler 300.
While we're at it, the Motown-ish feel of Prove It To Me is the one that takes Andre to a source of his own, Do You Remember? is a loungey piece of Tropicalia jazz, and the closest he gets to the more basic r'n'b sound is with the harp-laden Three Sisters, while the closest I've ever gotten to listen to (almost) classic rap myself, except for an occasional Beck tune or two, is with Uptown Hustle.
They say that after 50 years in the business, as well as 70 of his own, Andre Williams has finally grown up, but what I'm wondering is, if his soul was ever any younger than this.
[Released by VampiSoul 2006]