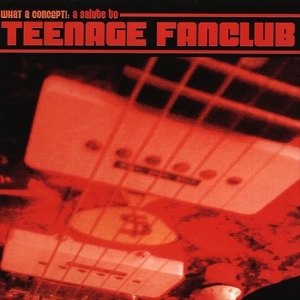 – A Salute To Teenage Fanclub –
At 24 cuts in over 79 minutes this thing is so stuffed that the last tune, Near You via Joyride gets cut off after the first 30 seconds, or so, by my computer. Annotation, forget about it. The versions all seem lovingly done but generally don't roam particularly far.
Which begs the question: "Yeah it's a great bunch of songs, but what do you get from this that Four Thousand Seven Hundred and Sixty-Six Seconds: A Shortcut to Teenage Fanclub [Jetset] — on which you'll find half of these tunes — doesn't provide? I guess that's for each and everyone of you to decide. Me I'll move onto the stitching.
As with the previous set the most separation comes with a female voice, Marykate O'Neil's rendition of Traffic Jam (a Neil Jung B-side — there were so many singles released from Grand Prix that the B-sides would make up a whole 'nother album).
The original was like something out of Wilco's Summerteeth, but Ms. O'Neil brings in some mandolin and a mournful slide guitar solo to unleash the song's inner alt. country. It alternates soft verses with noisier choruses, which keep it clearly in the alt camp, but the bits of harmonies, self or farmed out, lend an overriding beauty.
Splitsville turns their version of Tears Are Cool into bouncy, harmony-strewn Electro-Pop with a long guitar solo being the only non-synthesized instrumentation. Superdrag intro their version of Radio with what I have to surmise is a clip of a guest radio dj spot by on of the Fannies (I haven't talked to any of those guys in a decade so forget about me recognizing which one) introducing a Superdrag record. But more importantly they bring energy and tightly focused vocals to this rendition.
There is something about Thirteen that always left me slightly disappointed, and when I saw that that album was tied for the most songs done up for this I thought that was a bad omen. But in going back and forth, way too much, in order to do this review I think I've isolated the problem with the original album: mediocre production and a desultory performance.
But the above renditions and the General Store's Brian Wilsonesque, keyboard and multi-tracked harmony laden take on 120 Minutes and the Mockers' tightening up (over a minute and a half are chopped out) of Hang On not to mention the swapping of some fun funkification, in the guise of vocals and treated guitar, for the original's cheesy orchestration reveal the sparkle that was hidden in those songs.
Chewy Marble inserts a banjo and some Musical Hall keyboards into their/his crisp reading of Metal Baby. While Walter Clevenger and the Dairy Kings bring a stronger, throaty vocal and cleaner instrumentation to About You rooting it more firmly in classic '70s Power-Pop (not sure what the backwards masking intro is about though).
So I guess there is a reason after all.
[Released by Not Lame 2004]