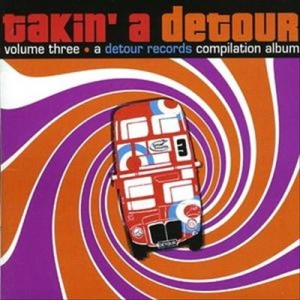 Offering a swirling double decker bus ride (as suggested by the cool pop-artish cover art) around the world, the only detours you'll be taking with this one, are the ones towards the latest generation of (mostly) '60s inspired in-crowd.
Starting with the longest of the detours, the ride opens with a pair of Japanese bands, with 96 TSUBU NO NAMIDA (96 TEARS that is) wearing their influences on their sleeves quite obviously, complete with all the Vox gear, taking the fuzz-toned, Farfi-sized mid'60s garage punk to en extreme, with LOTS of '77 punk attitude, sometimes even getting "too wild" (as described in the liners) for my own tastes.
While the appropriately named THE FREAQUE, in spite of their groovy brand of slightlydelic take on '66/'67 freakbeat, chockfull of noisy pop-artistry, sounds almost conventional in comparison.
Out of the ashes of the sadly defunct Austrian r'n'beatsters The Jaybirds, rises not one but a pair of bands, both featured herewith, with MUSIC DEPARTMENT opting for what might've seemed as a natural progression, had they really been in the sixties, which is a late'60s Hammond organ-ized vibe out of the shades of "purple".
And what THE SUBCANDIES are offering, is a powerhouse of an "in-Prisoned" beat, not too unlike the more contemporary sound of Jarvis Humby, along with another more-bluesier-in-a-funky-way tune. Another European act, coming right from the cradle of beat music, Hamburg, Germany, are THE MONICAINES with one Motown-through-Jam piece of a blue-eyed soul, as well as a kind of a garage-flavoured Graham Gouldman thing.
Of the English representatives, JANORAK with their futuristic Devo/Wire/early XTC styling, seem like a perfect choice for a possible Clockwork Orange re-make soundtrack, while SAWDUST CAESARS and THE Q both sound as if they're stuck somewhere within the early'80s mod revival, with the latter kinda resembling the scene's most melodic answers to the legacy of The Who-through-The Jam, such as The Times or Squire.
Get your ticket now, and be there even before the in-crowd!
[Released by Detour 2006]