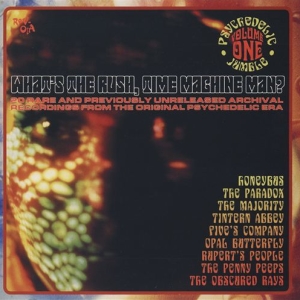 – What's The Rush, time machine man? – (20 Rare And Previously Unreleased Archival Recordings From The Original Psychedelic Era)
Following the path of Nigel Lees' Top Sounds label's first Alphabeat volume (reviewed elsewhere on these pages) Rev-Ola's own jumble of late '60s British sounds, comprises of another bunch of highly collectable gems of the same kind, compiled by a pair of esteemed Time Machine engineers and genre archivists, Stefan Granados and Andy Morten.
Opening with the fuzz-laden bubblegum power-pop of their supposed 6th single You Can Run, THE MAJORITY also provide three more '67 demos, including the popsike pair of the blue-eyed soulful Our Love Will Be So Strong and the "revolving Time Machine Man, spoonful of bass Macca-ronies, as well as the Kinky Don't Know What You're Doing.
One of the most well known genre defining names, TINTERN ABBEY, are featured with just as many entries, with the best one being the clean-cut, though expectedly hard hitting Do What You Must, while the remaining triple (How Do I Feel Today?, Naked Song, It's Just That The People Can't See) fits under a bit lighter, though none the less great, slightlydelic formula.
The two particular entries making me want to stop and not only slow down the "machine man", is the pair of PENNY PEEPS '68 demos, of which Meet Me At The Fair is a mod-ish piece of an audio "creation", while Helen Doesn't Care is a freakbeatin' garage punker, that seems to have at least a thing or two more in common with a song called Helen by their contemporary soulmates The Embrooks.
One of the two bands without any official releases left behind, are Birmingham's PARADOX, providing some classic late'60s Brumbeat Move-ments such as What's The Rush, Dillbury, or Mary Colinto (written by the yet-to-become Paradox-ical Dave Morgan, and also recorded by his previous band The Uglys), along with a blue-eyed soul dance stomper Somebody Save Me, and a perfect ticket for a Honeybus ride, called Like The Day Goes, and while we're at it, there's also a stripped down demo version of HONEYBUS' debut single Delighted To See You.
The remainder of the disc, features some more one-track entries, such as OPAL BUTTERFLY's demo of Townshend's Mary Ann With The Shaky Hand (otherwise released on their second single), another Who-like quirk from FIVE'S COMPANY's '67 demo Friends And Mirrors, as well as an instrumental by another one of the genre's faves RUPERT'S PEOPLE, while THE OBSCURED RAYS remain the most mysterious one of the bunch, with their You And Me Baby (The Mirage are suspected to be providing the backing track) being a harmony laden sunshine pop track.
With an open call to anyone having access to unissued late 60s recordings from the British underground scene, let's hope at least a few other jumbles are likely to happen sometime soon.
[Released by Rev-Ola 2007]