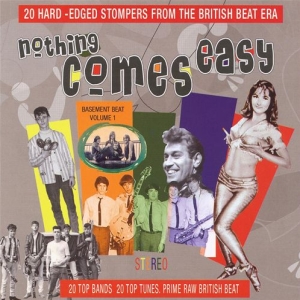 Nothing Comes Easy: 20 Hard-Edged Stompers From The British Beat Era
Who Needs Tomorrow: American '60s Garage Bands
The Electric Coffee House: 20 Mid-Sixties Garage/Folk Gems From The USA
Having been out of synch with the latest Psychic Circle releases just for a short while, I'm already almost ten volumes late, which clearly displays Nick Saloman's dedication for diggin' out all kinds of obscure sixties gems.
Here we go with three new ones, providing (mostly) mid'60s beatsters, janglers and punkers from both sides of the Atlantic, starting from the (almost exclusively) British volume of "prime raw beat", with it's only exception being the Swedish PANTHERS, whose I'll Be Pleased happens to be a perfect example of the formula.
Other highlights include the moody Kinky r'n'b of RAY ANTON & THE PEPPERMINT MEN's Nothing Comes Easy, the post-Lulu single by her backing band THE LUVVERS, Most Unlovely, which is a jazzy kind of a thing by way of Georgie Fame or Lindsay Muir's Untamed, then there's the Zombiefied beat of THE TIMES' Tomorrow Night, TOMMY BRUCE's fuzzed out rendition of Pete Dello's Over Suzanne (also recorded by The Applejacks), as well as a pair of harmony-fuelled mod stompers, as delivered by THE ZEPHYRS (Wonder What I'm Gonna Do) and TEN FEET (Got Everything But Love).
Off to the other side of the ocean, where the American '60s garage band-stand opens with RANDY JOHNSON's only single side Fly Superman Fly, being the second of only four singles on Monkee Davy Jones' own Davy Jones Presents label, and sounding not too unlike himself fronting a more punkish r'n'b band. There's quite a few interesting little references surrounding the name of THE SILVER BYKE, signed to Bert Berns' Bang label, produced by the Scouser Undertaker Chris Houston and featuring guitarist Charlie Cazalet, who supposedly turned down an offer to join The Left Banke, here leading his own band through a quirky little piece of popsike called Who Needs Tomorrow.
THE LORDS OF T.O.N.K.'s Miniver Cheevy not only sounds like an imaginary Beau Brummels outtake, but opens almost exactly like Just A Little, while THE 13th PRECINCT, THE COUNTDOWN FIVE and CAST OF THOUSANDS are a triple of Texan bands, all sounding like distinctively Brit-influenced West Coasters. The most well known pair of bands featured herewith, must be the infamous BLUE THINGS, here featured with the cover of Dale Hawkins' La Do Da Da, the flip side of their debut single, along with MERRELL FANKHAUSER & HMS BOUNTY, with The Sons of Champlin photo being mistakenly put in the booklet instead of their own.
Not only does The Electric Coffee House seem as a perfect sequel to Misty Lane's Byrds Won't Fly Today (reviewed elsewhere on these pages), but it also opens with a band featured on both comps as well, which is Florida's TIFFANY SYSTEM, whose Wayward One displays what's as close as it gets to a long lost unreleased early Byrds gem, which is a formula also applicable to the likes of THE SOUND OF THE SEVENTH SON (I'll Be On My Way), STARBUCK (Let Your Hair Hang Long) and, in a more classic-beat-through-Gene-Clark way, there's THE STREAM OF CONSCIOUSNESS (Till You Are Through).
Mostly due to a slightly moodier vibe, being just as jangly though, some of them are closer to the 'Brummels' take on the same matter, as heard from THE CLEFS OF LAVENDER HILL (First Tell Me Why), THE CHESSMEN featuring young Terry Jacks (Running Wild…), THE GUILLOTEENS (I Don't Believe), or yet another one from the Davy Jones Presents label, VINNIE BASILE (Gypsy Girl).
THE GANTS' I Wonder (widely available through their own re-releases in both USA and UK, as well as on Rhino's Nuggets box) and KEITH MURPHY & THE DAZE's Slightly Reminiscent Of Her are a pair where The Beatles influence takes over the folky aspect, unlike with RICK JARRARD's High Coin and THE ENERGY PACKAGE's See That I Come Home, which are both close enough to being imaginary Dylan covers.
All in all, it seems like "nothing comes easy" for Nick Saloman, except for compiling (mostly) obscure '60s stuff onto these shiny little pieces of plastic.
[Released by Psychic Circle 2007]