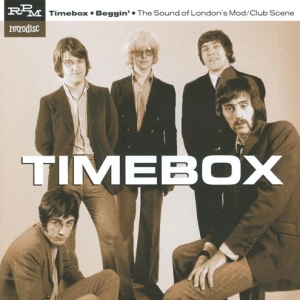 – The Sound Of London's Mod/Club Scene –
After gaining quite a reputation as one of THE club acts on the swinging mid'60s scene, it's the latter days' less dancefloor friendly (mostly unreleased) output that makes this Timebox being looked into again … and again.
Their take on The Four Seasons' Beggin' is the one that you're most likely to stumble upon by accident, but when it comes to blue-eyed soul stomp, the one that I'd take over it anytime, is the preceding single, Walking Through The Streets Of My Mind, with it's Zombies-like minor chord mood. The one that puts the Britsike nugget tag onto them, is Gone Is The Sad Man, the 4th single's flip, sounding like Lennon covering Syd, with a similar formula applied for the equally quirky Baked Jam Roll In Your Eye, heard on the following A side.
With the late'60s Beatle-vibe caught on the last single, it's what they mostly stuck with from then on, be it through the rootsy Badfinger-like power-pop (Yellow Van, Love The Girl, Stay There), light popsike by way of The Bee Gees or Honeybus (Barnabus Swain), McCartney-ish music hall (Eddie McHenry, Tree House), or adding a touch of The Who to the Fabs' most rawkin' (Timebox). Another pair well worth the mention, veering towards the American sources of influence, is the jazzy-Nazzy power crunch of Promises, and the appropriately titled The Band-like Country Dan And City Lil.
Doin' time in a Timebox never seemed so easy!
[Released by RPM 2008]