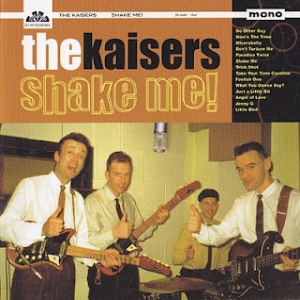 These days it's good to have bands like The Kaisers (in fact, it's good to have them anytime!) because; you know how they use to say, "if you remember the sixties, you were never there".
Well, here's one for those who were there, but don't remember a thing. They can thank God for groups like this, because even if there were no record re-releases, or collectors who still have the originals, The Kaisers offer the first-hand experience.
Sometimes, they sound even more authentic than some of the original bands of the decade, if you could believe that, and of course, the only place to achieve that is Liam Watson's Toe Rag sound-temple, where it's all happily taken back to mono, which is where it's at.
What this Scottish band is focused on, is the classic Liverpudlian take on those sounds from the records the sailors used to bring across the ocean, graced with FABulous multipart-harmonies, like in the title tune or Take Your Time Caroline and What You Gonna Say, fireing an unavoidable shot of r'n'beat.
There are also a couple of song titles so indicative, that you're almost sure what you're about to hear, notably No Other Guy, instead of "some other" that they used to sing about, or Clarabella meeting Dizzy Miss Lizzy in Miserabella.
Hiding in the "shadows" of the vocal-tunes, there are also some great instrumental tracks like Trick Shot, the perfect 6Ts spy-soundtrack, as if played by the "watermelon man", but what really tickles my mynd here are the moody Mersey ballads, lighted up with some irresistible vocal harmonies like Don't Torture Me (though he can almost hear her saying that it's "all I've got to do") and Angel Of Love, with a piano solo that I'm ready to take "any time at all" …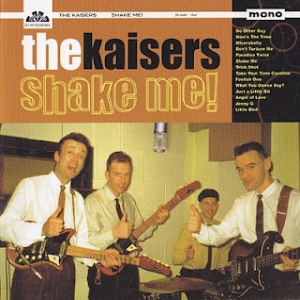 And if you wanna hear some more Beatly-trickery, don't think that "you can't do that", cuz Now's The Time, and there's also Foolish One, which starts with a guitar riff that could take it Anyway, Anyhow, Anywhere, but it still turns into another Merseybeat stomper.
It seems that not remembering the sixties isn't that bad after all, as long as you have bands like The Kaisers who do "remember" them more than well.
[Released by Get Hip 2001]