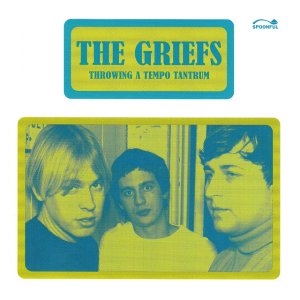 Rolling out of Cincinnati, and led by a one-time Greenhorne, singer-guitarist-songwriter Erik C. Stein, the Griefs have just about everything we want in our Rock: energy, strength, focus and 'chunes.' There is a passing similarity to the aforementioned lot – see the fuzzed out grinders like Bored Outta My Gourd and You Know Its So. But even with the direction evinced by the Greenhornes on their V2 EP there is higher melody and variety quotients on display here. Now some might deduct points for a bit overt similarity to various sixties favorites, and with four different recordists used for the sessions that make up this album there is a variance in audio quality, but with the dial way up and the road noise roaring as you head up Rt.33 none of that seems to matter.
It is the heart of the album where you fine the choicest morsels. It Was Another Time is a stomping rocker ripped right out of My Generation, somewhere between The Good's Gone and It's Not True, with classic Townsend chords and Moon fills (courtesy of Keith Fox, brother of Greenhornes mainman Craig, and one of many occupants of the, currently m.i.a., Sights' drum throne), add in the horizontal modulation of the choruses and voilà, you're damn close to a re-write of the Creations' Making Time. Where My Feet Once on the Ground has a lighter touch, mixing in the ringing jangle of the Byrds, circa Younger Than Yesterday, with a spot on Ray Davies drawl. The bass, courtesy of Boyd Bingham, propels everything forward as Fox bashes away with the melody flitting above. For the solo the guitar sound changes to a tensile with overtones, bluesy voice, which heightens the pensive mood of the song even though it's trucking along at a good pace. That pace is ratcheted down for the forlorn ballad Why Do You Like Him? With a watery sound and weary tone, a question we've all asked at one time or another. But then it all perks up with a delicious, two-an-a-half minute slice of Mersey Beat, Whenever You're Around. A swinging back beat, a brief touch of backing harmonies — though it's hard to make out through all the reverb if some double-tracking is in play throughout – and a purposeful lead vocal all wrapped into a brash number. Come And Go is a moody, mid-tempo rocker struck with Indie-Rock riffs, a slurred, Garage-Rock vocal with matching backing, but a pointillist guitar solo in counterbalance.
Other delicacies can be found fore and aft. The opening All Over Again is an echo-laden portion of '70s Mod Revivalism. The minute-and-a-half Garage-Pop nugget They're Trying to Tell Me Something with classic use of overt repetition, swaddling distortion and a sole, big release chorus. While the atmospheric Much Much Worse adds dabbles of rumbling Psych, kin to the Amboy Dukes (Colors, Dr. Slingshot, Prodigal Man, somewhere around there). And the closing Know It True, their longest work out — topping four minutes — where everything above comes together. A bit more care is put into vocal arrangements, a keyboard pops up in the bridge for a surprise, Bingham's bass booms out in all its Entwistleian glory and a marker is laid down in the direction of their own identity.
[Released by Spoonful 2007]