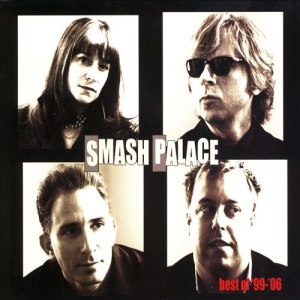 After being in'n'out of the scene for quite some time (as from 1985 that is), this compilation focuses on this Philly band's so called "come-back period", as suggested by the title itself.
This actually being my first ever encounter with Smash Palace, my initial impression was mixed between the kind of guitar pop that verges on an almost usual mainstream, and the one that unveils a bit more dedicated record geek, which the main songwriting pair of Butler brothers appears to be.
The cooler influences range from updated mid'60s sounds as heard in Dime Store Lies, with a mood that seems to recall the minor-keyed classics such as You're No Good or She's Not There, or in the Byrdsy folk-rocking jangle of Juliet And Me, which kinda reminds me a bit of Jules Shear's If We Never Meet Again, while there's also the Beatle-ish Monkee business of My New Sensation.
While at the Beatle side of things, Lucky Me is pure late '60s Lennon, complete with the sliding Harri-solo, Let Me Go is another cool Beatlism by Mancunian way, the moody verses of Sooner Or Later lead into the kind of a chorus that the Gallaghers would kill for, and Give You My Word is a folky little Dylan-through-Lennon tune.
I'm not sure about the song lists of the regular albums, but if most of these happen to be gathered in one place, it might've been a serious contender for one of the albums of the year, whenever the actual release date was.
[Released by Zip 2006]