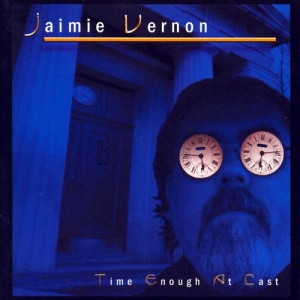 After spending quite some time preserving the Canadian musical heritage by reissuing albums by Klaatu, Dave Rave, Bob Segarini etc, through his own label Bullseye, Jaimie Vernon proves, once again, that he's capable of churning out a tune or two himself that might also be regarded as the above, some time in the future.
Titled as an homage to the Twilight Zone episode, Time Enough To Last covers the concept of time, through different kinds of "time signatures", ranging from Tom Petty-ish Byrdsy folk rocking jangle of the title tune, the incredibly catchy mid'60s-reminiscent Pillars Of Time, or the equally jangly and West Coast-like harmony fueled pop jewels, A Kiss, Turn! and Give Me Your Hand, sounding not unlike the ones by the Cosmic Rough Riders.
To an occasional moment when he tends to rock a tad harder, like the '80s power-pop reminiscent You've Done It This Time, or the almost glam-ish Heart Attack, while, in spite of it's misleading title, Lost Emotion Blues is a kind of a dreamy piece of popsike, as is Hold On (To Your Karma).
As an "overtime" to the album's own "real time", you also get three equally concept-related covers, initially meant to be included in the "real" sequence (Alan Parson's Time, The Church's Unguarded Moment and The Korgis' Everybody's Gotta Learn Sometime), as well as a whole bunch of "for-fans-only" album tracks demos.
[Released by Bullseye 2006]