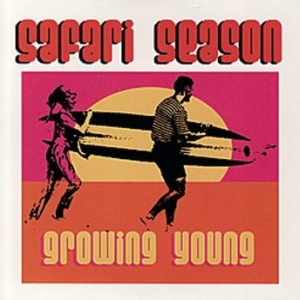 Safari Season is a Swedish duet whose whole conception, contrary to the area climate, basis itself on the summery boards/waves/palms/girls thematics. Of course, a choice like this pulls in the constant presence of the inevitable Brian Wilson, "the big brother" of the surf-order, whose work is also often the basic motive in a cases like this.
The debut single for the national market was also the signal for the start of the international Safari Season thanks to the sophisticated aproach to this, pretty worn-out, idea which cought the eye/ear of the Amerian ZIP label with the special affinity for the Swedish/Australian areas.
The EP Growing Young has all the ingedients of the Wilsonian concept: the title Pocket Symphony along with it's "heroes and villains" lurking between the lines, the not-so-classic surf classic Here Comes Summer flavoured with an unexpected, latent Undertones sound, the Pet Sounds tribute Lay About Dream and the great Beach Boys cover Help Me Rhonda, surprisingly the song that's the least Beach-sounding.
As a special curiosity, there's also an instrumental The Search Never Ends as a basis for an authentic surf tale. Safari Season, even though they're in Sweden, are pretty close to the end of the search!
[Released by ZIP 2001]