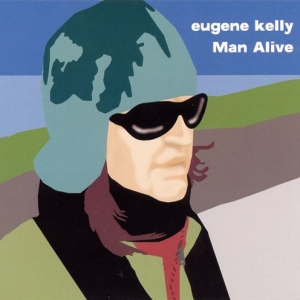 Twenty years on from those early days in Bellshill he stands under his own name. Following the trail, through the Vaselines, Captain America, Eugenius and the new path setting, one-off, Astro Chimp, Mr. Kelly has rounded off some edges and found an easier going pace, landing in the same late '60s, So. Cal. wonderland his landsleit Teenage Fanclub have called home sine the new millennium came.
The opening song, I'm Done With Drugs, lays it out with the line "done with noise, and all it brings, Sonic Youth, the Rites of Spring…" It's a great opener: a mid-tempo rocker with jangled guitar(s), a swaying, rising chorus supercharged by flashing tambourine and a bit of handclaps, a bridge that's spare, made from airy, stacked vocals, a touch of slide guitar, a tang of banjo, a whiff of sparkly keys, a dash of phased drums that's anticipatory of the coming breakout soon to be led by a building drum roll. A truly smart, compelling three-minute Pop-Rock tune.
His backing band is sympathetic and dexterous. It's comprised of multi-instrumentalist David McGowan and bassist Paul Smith, borrowed from Summer of Mars a.k.a Vera Cruise (and the former also from Thrum), and drummer Dave Gormley [AC Acoustics], with some other guests making appearances. Everyone contributes some backing vocals at points. There are sixteen tunes on this disc. They range between mid-tempo rockers, like the above, and soft ballads.
They all seem tied together by a longing, some regret and the occasional touch of melancholy. They have delectable melodies and solid, yet intricate, arrangements, from the noisiest band numbers to sparsest solo tune. The only complaint I can lodge about any of them is that I Done Something Wrong goes on a minute or so too long that its redundancy becomes overtly tedious.
But the rest just seeps further into you, play after play. Stop The Press is a rolling number whose verses seem to bear a slight imprint from Kelly's time long ago kicking around with Evan Dando. But then there is an echoing vocal at the differentiating points of the verses that snaps you to attention. The choruses swell up, so endearing and with ease. Another snap is the bridge for which that old splayed, distorted guitar is whipped out reprising the chorus melody.
The following number, Ride The Dream Comet, gives a full, brief reign to the fuzz as it starts things off with one of those You're Gonna Miss Me/Gloria riffs over a modified Garage-Rock groove. A tinkling keyboard and the entrance of Kelly's subtle vocal produces a color shift into Curt Boettcher terrain. But counterbalancing that and keeping one corner always moored in Pebblesland is an almost buried harmonica.
Continuing on, Sinking Ship, built from banjo, acoustic guitar(s), simple bass lines, slivers of pedal steel and single & harmony voices, is a Folkish number from the sparsest section of the Burritos' The Gilded Palace Of Sin. Further down Dear John reduces things even further to just vocal and acoustic guitar. In this singer-songwriterly ditty with quasi-biblical allusions Kelly takes a humorous swipe at corporate omnipresence, closing with another repeat of the last chorus line with a twist: "Destroy Starbucks Today, oh Starbucks today. And tomorrow, McDonalds."
But the bulk here is somewhere near the seemingly breezy Pop-Rock of The Healing Power Of Firewalking. Easygoing strumming and rolling rhythms, dulcet vocals and even sweeter choruses, with a differentiating twist, in this case a sonorous synth squeal popping up in the bridge. If this isn't the first of these pamphlets you've read, you are marked as wanting this album. No matter how hard it is to find.
[Released by Rev-Ola 2006]