Lola Barbershop – Sportsman EP
€ 2.95
In stock (can be backordered)
Description
Format: CDEP
Label: Torpedo
Year: 2000
Condition: New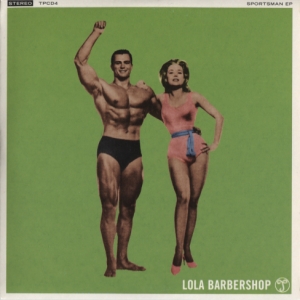 Sportsman was the fourth release on Torpedo Records out on the 14th of February 2000 [TPCD4]. 888 copies were pressed in paper sleeve, all hand numbered.
Songs:
01. Sportsman
02. Sometimes
03. Sandy
04. His First Guitar
05. Beachparty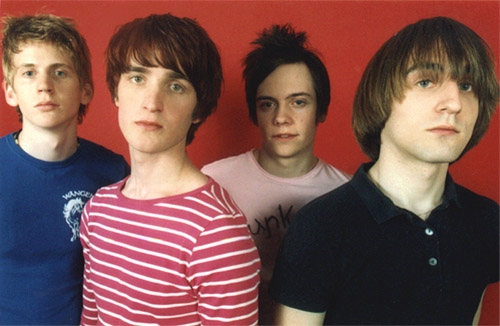 Andreas Nordström – drums/vocals
Anders Johansson – guitar/piano/vocals
Per-Olof Stjärnered – bass/vocals
Anders Nilsson – guitar/vocals
REVIEWS
While Lola Barbershop might seem a weird name it turns out to be quaintly appropriate since they have decidedly white bread vocal harmony aspect – beyond Beach Boy's vernacular, though that's there – to the material on their Sportsman EP [Torpedo].
A four -piece from Sweden, they probably dreamed about California since they were knee high to a boogie board, and except for their feint northern lilt you might not be able to tell otherwise.
The five songs encapsulated here are non-dietetic morsels full of jangly guitars, airy melodies and harmonies, lots of harmonies. While there is not much depth lyrically, the key is how finely they've arranged both the vocals and the instrumentation – the addition of the trumpet in the title track, the piano in Sometimes and the mellifluous guitar solos in Sandy and Beachparty.
Someone's having fun, why not you.
David M. Snyder
The BOB #58

**********
Don't laugh now but Swedish quartet Lola Barbershop is pretty serious about its pop pedigree. Thus, they merrily evoke the Beach Boys (Sportsman), the Beatles (Sometimes), the Monkees (Sandy), the Byrds (His First Guitar) and Jan and Dean (Beachparty) without a hint of self-consciousness. Nothing earth-shattering but it's comforting to note that the wide-eyed innocence of the material still manages to work its magic.
7
Kevin Mathews
Touched by the Power of Pop
**********
This foursome from Sweden does excellent, mid 60s influenced pop on this 5 song EP, marked by the band's unusually strong harmonies. From the bouncy, Sportsman, to the cool Merseyesque Sometimes and His First Guitar, to the mod slants of Sandy, it will be a fun and fulfilling listen from start to finish!
*** ½ out of 5
David Bash
Shake It Up!
**********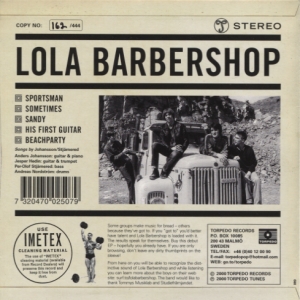 För ett 1960-talsfreak är det Brunflobaserade bandets debut EP på Malmöbolaget rena tidsmaskinen tillbaks till en tid då de svenska popbanden dök upp snabbare än svampar ur jorden och radioprogrammet Tio i Topp var det sanna rättesnöret.
Kvartettens sammetsmjuk välklingande, melodiösa och tonårsgosiga popmusik är en självklar hybrid på Beatles och Beach Boys. Benar man upp den musikaliska och textmässiga biten så finns det flera kopplingar, och tittar man på konvolutets baksida så ger det omedelbara associationer till Beatlarnas EP-baksidor.
Men sen så är det ju faktiskt så att de här fyra unga killarna redan har kvalitéer och ett i allra högsta grad eget anslag då man hör få band med samma sound.
Tre av de fem låtarna Sandy, His First Guitar och Beachparty fanns med på den CD demo som killarna släppte för något år sedan.
Men det spelar ingen roll eftersom resten av riket bör bli medvetna om att det även i de norrländska skogarna bor unga och trovärdiga stämsångsprinsar som med känsla vårdar det klassika poparvet.
Björn Bostrand
Östersunds Posten
**********
Första gången jag kom i kontakt med Lola Barbershop från Östersund/Brunflo var i Uppsala en dag i januari som förband till Honey Is Cool. Att Lola Barbershop var förband till Honey Is Cool är för mig en fråga utan svar för banden har inga likheter alls. Fast det kanske är så det ska vara, för hur roligt vore det med två band efter varandra som låter helt likadant? Nu, ett tag senare släpper de sin debut – EP på bolaget Torpedo Records i Malmö.
Jag blev glad av att se Lola Barbershop. Kort sagt – det svängde. Även om man inte dansar i normala fall gör man det definitivt när man ser detta band som består av ett gäng 19-åriga grabbar. Detta kommer alldeles säkert bli en av de gladaste EP's som kommer att släppas i år, inget tvivel om den saken.
De flesta band som kommer från norra Sverige spelar antingen brutal hardcore eller engelsk indiepop. Fallet Lola Barbershop är annorlunda. Min första tanke när jag såg dem live var Supergrass fast med mer inslag av äldre musik a lá Beach Boys. I alla fall är det världens charmigaste pop. Live rycks man med och det gäller även när man lyssnar på denna 5-spårs EP, det är lätt hänt att man tar ett danssteg eller två när man står på tunnelbanan, eller att man sjunger med något för högt i en trevlig refräng. Lätt hänt. Väldigt lätt hänt.
Den första radiohiten på EP'n Sportsman heter just samma sak som skivan. Får vi inte höra denna hit spelas sönder snart är det något stort fel. Jag tror dock inte vi behöver oroa oss. Min egen lilla favorit är Sandy, en populär flicka att göra låtar om. Sista låten Beachparty får en att längta till sommaren för det är då Lola Barbershop kommer att passa som bäst! Vi ska dansa till dem hela sommaren. Jag lovar. Glädje. Kanske lite för mycket glädje i längden, om det nu kan bli för mycket utav det.
Marie Lindfors
Bomben
**********
Otro CD-EP de un grupo sueco por el sello especializado Torpedo Records. Y éste resulta verdaderamente alegre y divertido. A estos muchachos les gusta de experimentar con los coros, con secciones de viento, con preciosistas arreglos de guitarra, y fundirlo todo en esfuerzo de artesanía.
Sí, sí, resuenan ecos des los Byrds, los Who, los Kinks, los Beatles… ecos muy perceptibles, pero tratados de forma muy personal, lo cual los hace auténticos. Porque al final de lo que se trata es de hacer Buenos cortes que valgan por sí mismos, verdad?
Este bonito EP contiene muchas melodías originales y variadas que no dan tregua alguna al aburrimiento. Sportsman, una graciosa disertación sobre el modelo real del ideal masculine; Sometimes y Sandy con sus multiples estribillos y vibrantes riffs; la rítmica His First Guitar que bien pudiera haber formado parte de la banda Sonora de "Wonders". Por ultimo, Beachparty hace honor a su nombre y nos remonta a los Buenos tiempos de la soleada California.
Y es que éste es un disco muy soleado. Palabra.
Lugarteniente Perry
Otoño Cheyenne #4
**********
Torpedo Records scheint sich im Moment zu einer Bank in Sachen Retro-Pop zu entwickeln. Erst die Spyders, jetzt Lola Barbershop, welche ihre ganz eigene Vergangenheitsbewältigung in Sachen 60-ies zu Blatt gebrachthaben.
Melodien aus der Zeit, als A-Ha noch hipp waren und ein Sound wie damals, als Mama sich noch nach Nylon-Netzhosen sehnte.
The Kings treffen auf die Beatles und feiern eine Low-Fi Party mit ihnen, versprochen! Neben der eifersüchtigen Beziehungskiste Sportsman sind noch zwei weitere Feger auf der 5-Track EP zu finden, die Beachtung verdienen: Sometimes, ein klein wenig sentimental vielleicht aber mit typischen "Shu-lala-lala"-Refrainzeilen und His First Guitar.
Sicher könnte man hier die Frage stellen: "Warum 40 Jahre später noch die gleiche Musik?". Warum nicht? Und jetzt zurück in die Zukunft!
Mirko Gläser
Headshock & realmusic